Czech Boys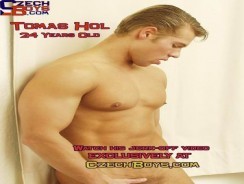 JUB Site Rating:
0 total vote





Czech Boys's Billing & Pricing
Czech Boys's primary billing processor: Ccbill
30 days for $24.95, and then, $19.95 recurring; 30-day non-recurring $34.95;
3 months for $59.95;
$99.95 for 6 months.
VISIT Czech Boys NOW!
Czech Boys
is hands down one of the best surfing experiences I've ever had, and I've reviewed a lot of
gay porn sites
. I have never come across a site that puts as much effort into providing a hot and fun time for its members as these guys do.
Czech Boys
must have a virtual army of people keeping their site stocked and organized to keep it updated daily. Yes, I said "daily" Right up front in the member'm area you'll find everything that'm been updated that day, whether it'm a
new exclusive model set
, a new
hardcore video clip
, or a
third-party plugin
update. And updates for the past two weeks scroll down the page, so you'll never have to worry about missing anything.
Featuring
young Czech guys between 18 and 30 years old
,
Czech Boys
sorts the guys into several distinct categories:
CB Frathouse
, featuring
college-aged guys
, the CB Arcade houses their
teen guys
, the
CB Gym
is where you'll find the
muscle boysM
. And then there are the exclusive model sections, highlighting the guys you'll only find on
Czech Boys
, and the video sections, both
hardcore gay sex and solo jack off
. This incredible and thoughtful sense of organization lets you easily and quickly find the kind of guys you like best. And I love this because while I'v not keen on slender, teen guys, I do love the
Czech muscle boys
with their big muscles above and below the waist. This feature really does make for a more pleasurable experience.
As if this isn't enough, dozens of their galleries have one of the most innovative things I've seen in gay porn. When viewing a model'm gallery, you can select a link for
armpits
,
balls
,
belly buttons
,
foreskin
, or
feet
, just to name some, and immediately you're presented with all of the pictures showing off that model'm particular feature. I love this! Now I don't have to sift through hundreds of pictures looking for a couple of butt hole or nipple shots, two of my favorites.
Czech Boys
also has another gallery section that presents you with specific fetishes, so again, if you're looking for
armpits
,
cocks
,
boots
,
sneakers
,
butt holes
,
feet
,
cumshots
,
socks
,
balls
,
foreskin
,
jockstraps
,
tattoos
,
belly buttons
, or
nipples
, they give you a page of models containing those types of photos, and a simple click on the model's thumbnail gives you all of the his specific pictures. Oh lord, why am I wasting my time writing this review? I could be feasting on
close-up pictures of butt holes and nipples
!
Their video section is just as well organized. Each of their hundreds of videos shows you who is in the video clip and they link you to each model'm page so you can find out more about them in their extensive bio sections, not to mention, check out all of their hot pictures.
The site'm member'm area also includes erotic stories, comics, jokes, games, daily polls, and they even have a news and lifestyle section. And knowing that a member'm tastes vary,
Czech Boys
also has a lot of third-party video plugins to keep you entertained - over 25 if I counted correctly. There really is so much to see and do at
Czech Boys
that you'll want to get one of their 6-month memberships at an incredible $99.95, currently slashed down from $149.95. But if you want to sample before you dive into foreskin heaven, their $24.95 monthly membership is still an excellent value.
And
Czech Boys
also loves hearing from its members. They have another cool feature where members can post their comments about their favorite model or picture. And of course you can read what others have had to say.
Last, but not least,
Czech Boys
is nicely designed and top-of-page navigation links ensure that you'll never get lost and you'll always find your way back to your favorite sections.
Bottom Line:
If you like
eastern European guys
and
juicy uncut cocks
you simply can't find a better site than
Czech Boys
. So much variety and so many cool features will leave you alone to do what you do best - get off!
VISIT Czech Boys NOW!
VISIT Czech Boys NOW!