Gay Interracial Xxx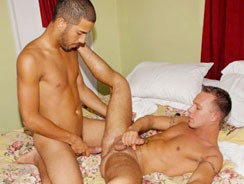 JUB Site Rating:
0 total vote





Updated: 2010-04-19
Primary Categories: Interracial
Secondary Categories: Hardcore
8 Galleries
Currently No Videos
Gay Interracial Xxx's Billing & Pricing
Gay Interracial Xxx's primary billing processor: 2000 Charge
$4.95 for 3 days then $39.95 recurring every 30 days
$9.95 for 7 days then $39.95 recurring every 30 days
$39.95 monthly recurring every 30 days
Three Month Membership is : $69.95 (non-recurring)
VISIT Gay Interracial Xxx NOW!
I think people tend to fetishize things that at one time were taboo. There was a time when seeing two people of different ethnic backgrounds was just unheard of, and even in some places people have problems with it. However, what is shocking for some may be a huge turn-on for others. Not to mention the fact that some people may be raised with the ideas of looking at people of other races with fear or hatred, and that ends up becoming a fascination for them. A white guy who sees a black man as someone society had told him he could not be with now wants him more than ever. I know a few gay men who are so turned on by Asian men that they will not go out with anyone else. So for those who live it or those who simply fantasize about it,
Gay Interracial XXX
is the place to go.
The site is really easy to use. Each video is presented as it'm own separate episode, with a story and matching photos when possible. I like that you don't just see the sex but you also see the setup. You get a chance to see why the guys are there and how they get together. Sometimes the hunt is hotter, for me at least, than the actual sex, and so it'm a huge turn-on for me to see the guys meet and hook up. The videos look great and play with no problems and it'm really easy to jump from one episode to another.
Troy and Devin
are a couple I just couldn't get enough of. I found myself wishing I could throw myself into the mix on more than one occasion. And you get to watch them meet, make the date and go home for some wild sex. There is just something really sexy about watching
a huge black cock sliding in and out of a tight pink hole
. It makes a nice change from the type of videos you usually see. Also, you sometimes find that people who make an "interracial" movie or site might only show
blacks and whites together
, but
Gay Interracial XX
has a nice variety of mix and match couples.
There are a whole bunch of other sites you get access to with your
Gay Interracial XXX membership
, which makes for a nice, well rounded experience. There is a great scene with an
adorable Asian guy
, a really
hot black guy and a sexy white guy in one of the hottest 3-ways
I've seen in a long time. I like it so much that I found myself really wanting to see more
Asian guys
, so I checked out the bonus sites and found some great pics and videos to feed my passion.
Bottom Line:
Excellent videos and photos, great models, and easy to use site, plus tons of bonus content in a whole network of reality sites, so the small monthly fee is well worth it.
VISIT Gay Interracial Xxx NOW!
VISIT Gay Interracial Xxx NOW!