His First Huge Cock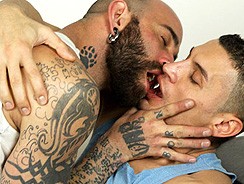 JUB Site Rating:
0 total vote





His First Huge Cock's Billing & Pricing
His First Huge Cock's primary billing processor: Paycom
$4.95 for 3 days then $39.95 recurring every 30 days
$9.95 for 7 days then $39.95 recurring every 30 days
$39.95 monthly recurring every 30 days
Three Month Membership is : $69.95 (non-recurring)
VISIT His First Huge Cock NOW!
I guess the first thing you will want to know is how big is 'huge.' Well, I guess that depends on your opinion but the guys you will see here sport very large cocks for sure. These are not the sort of 13 or 14 inches that you might find on some sites totally dedicated to huge dicks, and they're not morphed either - they are all very real. Make sure you have the sound up to listen to the bottom guy's reaction to finding eight or nine inch inches of man meat thumping up his back passage. But more than that, His First Huge Cock features guys taking dicks for the first time so what you're seeing are virgins losing their cherries.
His First Huge Cock is tied up with several bonus sites, including the well-known Twinks For Cash and His First Facial, so what we have here is reality. In each episode a genuine amateur guy is invited to make a porn video with at least one, sometimes two, other guys and this combination of innocence and experience makes for some very hot and erotic viewing. But on top of the well-made episodes, which do come across as being very realistic, His First Huge Cock, and other sites on the network, do several other things to enhance your viewing.
To start with, they make it very easy to view the movies, and that's probably the most important thing. There are versions here in clips suitable for everyone from people on a dial-up connection to broadband users, with five different choices of resolution that go up to high-definition. These episodes can be streamed or downloaded in these choices and you can do this in either Flash or WMV. Streaming is nice and quick and the download speed is reasonable. There are 248 movies so far, and updates happen every week, bringing you a new, fresh and exciting episode to look forward to every seven days.
The movies are well filmed, there is no doubt about that. The models really get into what they're doing too, which also adds to the real and natural feel of everything. These virgin guys tend to be young, and also pretty well hung, and put in great performances. Each episode comes with a set of screenshots to view with between 80 and 100 per set; these are a decent quality and easy enough to view. With these galleries you have the option to download everything in a zip file or you can view them via PicLens, if you have that software.
I did have one problem with viewing both videos and galleries: When I was using Flash the screen
(or the picture)
appeared at the bottom of my monitor, and only half of it was showing, the other half was off the screen, and there was no way of dragging it up. If you have this problem then download the galleries to view them or run your stream in WMV, where your external player will open bringing you the full, hot, hard-core action.
There are various other little extras that His First Huge Cock does well: There is a member's poll running, you can even request what happens an episode, there is an 'add to favourites' function, You can rate content and there's regular news back on your main home page. There you will also find links to six bonus sites, several feed sites, and to some up-sells including a DVD store where you are offered a discount.
Bottom line:
On the one hand you have some great, realistic and exclusive hard-core scenes at His First Huge Cock, and on the other hand you have some great interactive options, easy navigation and a very modern, sleek design. So in both hands you've got a top-notch site that brings you exactly what it promises on the tour.
VISIT His First Huge Cock NOW!
VISIT His First Huge Cock NOW!