Amateur Canadian Guys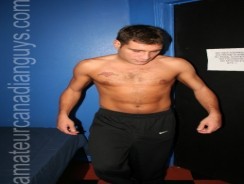 JUB Site Rating:
0 total vote





Amateur Canadian Guys's Billing & Pricing
Amateur Canadian Guys's primary billing processor: Ccbill
$24.95 for 30 days then $24.95 recurring every 30 days
$9.95 for 7 days (trial) then $24.95 recurring every 30 days
$29.95 for 30 days (non-recurring)
$64.95 for 90 days (non-recurring)
VISIT Amateur Canadian Guys NOW!
Amateur Canadian Guys is run by shemale entertainer Mandy Goodhandy and Todd Klinck, admittedly an odd couple working in the porn industry, both of who have been alternative event promoters in the Toronto area for around 4 years now. Every Saturday night, since December 2003, Mandy and Todd have been running "The Lounge", which is an alternative strip club in the basement of a straight strip club in the airport area near Toronto.
Just this past September 2005, found them bringing a REAL reality site to the net, featuring the guys who have stopped by and participated at "The Lounge". Most are native Canadian guys; others are transient travelers looking for a good time. Whatever piece of land they choose to call home doesn't really matter, what does matter is that these guys are hot, raw, amateurs stripping, sucking and fucking before a live audience. ALL of the "nude boys" who appear at The Lounge are also the adult video models for Amateur Canadian Guys.
So what happens on the website? Besides having all original content, shot in a relaxed, "reality porn"
(but real reality, not staged reality)
style, the other main thing that makes them different is that they host an event every week where you can meet some of the models from this site in person. And I'm not describing a live cam chat session. Guys are brought into the VIP area and members can watch as they are photographed and videotaped as they "audition" to become models for upcoming movies!
You'll also have access to videos and photos of over 72 guys in solo and group sessions, a pretty impressive collection of exclusive content for a site that's only four months old! Videos are offered up in both low and hi band Windows media. Guys are straight, bi and gay, and the action is intense. I found the photography excellent, with good lighting, and they captured these guys in some seriously erotic shots. Galleries offer up 2 viewing options, a mouseover with a photo change, or go full screen and move through hi resolution imagery. All material can be downloaded.
Hit the tour, click on the models link, and what you see there is exactly what you'll get inside as a member. The "transparent" tour lets you check everything out before asking for your credit card number. And when you get to the video about Clark's pounding by Brazillian muscleboy Marcos in "Mayhem Virgin Sex" ... that really is Clark's first time having male sex, and omg it's HOT!!!!
Site updates 2x per week with new videos. Definitely cruise by and check this site out, because I predict Amateur Canadian Guys is going to seriously explode into the gay amateur niche
(and have you exploding right along with it)
as the place to be and they'll hold onto its members tighter than a cock ring on a swollen dick.
VISIT Amateur Canadian Guys NOW!
VISIT Amateur Canadian Guys NOW!