Hairy Boyz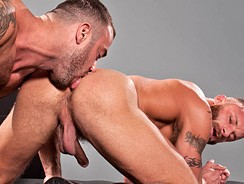 JUB Site Rating:
0 total vote





Hairy Boyz's Billing & Pricing
Hairy Boyz's primary billing processor: Paycom
$149.00 for 365 days one time charge
$29.95 for 1 month, then $29.95 billed every 1 month
$59.95 for 3 months, then $59.95 billed every 3 months
$99.95 for 180 days one time charge
$39.95 for 30 days one time charge
VISIT Hairy Boyz NOW!
Welcome to the den, this is where the Hairy Boyz hang out and believe me, everything hangs out here. You've got around 200 horny, hairy, hunky men to play with and they are all sexy and hung. It's kind of like a bear park, with some admirers thrown in, don't be put off by the 'boyz' of the title, these are real, hard and powerful men.
Which means we are not looking at a twink site here, oh no, we are looking at a site about masculine guys who enjoy hardcore sex. I checked through the model index to see if I could catch them out and find a 'twink' but, although I did find some guys where were not hairy, I didn't find any little 18 to 22s hiding in there. In the videos department I found around 288 movies and, as far as we know these are exclusive to the site - well to the company at least, some may well appear on other sites from the same studios, but they are, to all intents and purposes, exclusive. Which does give you one slight problem in that they are also protected. This means you can't run in to the den, grab all your bear moves and then leave, giving up your membership as you go. No, you will have to stay as a member to get the permission to run the movies, even after you've downloaded them.
But that means that only members of this site will ever see them, which is good news. And you're going to want to stay around for the updates and the content itself. Viewing that content is nice and simple, the site is well laid out and easy to use and this extends to the video viewing pages too. Select on from the list and click the pic to open the main page. Here you get to rate it, add comments or put it in your favorites collection. And here you also get to download a WMV version or stream in eight versions of Flash and WMV, four each, from 38k up to 768, with the facility to jump through the scene and go full screen. So everyone should be able to view at least one version of each of the many beary movies.
The movies are varied to with some solos, many duos and hardcore, and some groups. You find the same variety in the image galleries of which there are around 300. These bring you more hairy man action, tight muscles, hung cocks, bears, leather guys and smother jocks getting in on the action. They are all well put together and good quality photos, you can rate them and add them to your favorites, and each gallery has its own amount of individual pics that come with slideshows.
No complaints from me about the main Hairy Boyz content, it's everything you could wish for in bear and manly stud action, and a bit more because you sometimes get a smoother or younger guy being hammered by an older 'dad' type, which adds a whole new level of eroticism to the proceedings. And talking of erotic, you've also got more content to keep you hard and happy. There is a story section with over 100 horny tales to read, and along side these come links in to some hairy guy comics and an included, exclusive live show site.
Bottom Line:
It's almost too much to bear at Hairy Boyz. There is so much hirsute and muscled action, so many men, so many extras, that you don't know where to begin. Take it slowly and enjoy it, there is enough here for several months of viewing and you're going to lap up every fury minute of it.
VISIT Hairy Boyz NOW!
VISIT Hairy Boyz NOW!