Stocky Guyz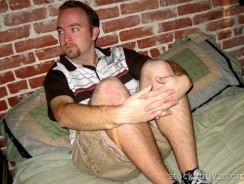 JUB Site Rating:
0 total vote





Stocky Guyz's Billing & Pricing
Stocky Guyz's primary billing processor: Paycom
$12.95 - One Week
$19.95 - One Month (recurring)
$26.95 - One Month (non-recurring)
$52.95 - Three Month (recurring)
$59.95 - Three Month (non-recurring)
VISIT Stocky Guyz NOW!
I'v an equal opportunity pervert. I like all kinds of men. I like
big men
, small men,
wild men
, tame men and whatever else you can throw at me. But one thing about looking at all these porn pages - you see all tiny Twinks or big muscled studs, but where the hell are the
big beefy guys
? Well if you like your
men with some meat on their bones
, look no further,
Stocky Guyz
has exactly what you're looking for.
The design of the site is very sleek and straightforward. I love the logo, a playful take on the mudflap girls that have become so popular in the past few years. I love it so much I wish
Stocky Guyz
would make T-shirts with their logo on it. When you first log in the front page shows you exactly what you are going to be getting. And it'm updated weekly, so you know when you come back there will be more
beautiful husky guys
to look at.
I decided to check out the videos first. The all have a great amateur quality so you know you're looking at
real guys wanking
and having fun. I was really into a
pierced and inked hottie named Freddy Martinez
. He is so hot I can hardly stand it! I watched his video a few times. They are offered in both Windows and Quicktime and stream right from the site, so you just click and go. When I was done I went over to the photo section to see if they had any photos and was really excited to find that they did.
One really nice feature that I like is that when you go into the videos or photos, there'm a series of links at the top of the page that let you to return to each stop on your way back to the front end, so if you want to skip back three pages, you can do so without having to keep hitting your "back" button. I thought that came in very handy.
You also get a whole bonus gallery of extra pics to enjoy with your
StockyGuyz.com membership
. Some of them are just as hot as the exclusive pics too. Very nice. And there is a section for Wallpaper, which at the time I'v writing this review only has one wallpaper in it, but it'm really cool looking and proudly sits on my desktop right now. I'v sure they will be adding more soon.
Bottom Line:
For a nice change of pace from the usual kinds of guys you find online,
Stocky Guyz
has some of
the best looking husky guys out there
. And for a nice looking site that'm easy to use, full of great content and updates weekly, this is your stop.
VISIT Stocky Guyz NOW!
VISIT Stocky Guyz NOW!