Straight Boys Jerk Off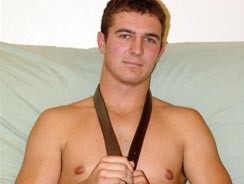 JUB Site Rating:
0 total vote





Straight Boys Jerk Off's Billing & Pricing
Straight Boys Jerk Off's primary billing processor: In House
3-day trial $3.96
7-day trial $6.96
11-day trial $9.96
20-day trial $14.96
30-day membership $29.96
VISIT Straight Boys Jerk Off NOW!
If you've seen Straight Boys Jerk Off in the past you'll be interested to know that it's all now on a new server. This makes viewing the scenes and pages much quicker. This is good news but other things, I'm pleased to say, have remained the same. Things such as the design, the information you are given, the good viewing options and of course the straight guys who jerk for you.
Straight Boys Jerk Off, like its sister site Broke Straight Boys is all about finding genuine straight men who are willing to show all on camera. This site deals with solo jerk sessions and you have plenty of variety in the guys, their cocks and their masturbation techniques. There have been almost 200 scenes added in the last three and a half years so you have plenty to view once you sign up.
These are not all solo jerk off scenes. You know how some sites give you one guy beating his meat, sometimes not very sexily, and then dribbling is cum onto his pubes or whatever? Well here you'll find more than that. There is chat with the guys before they start, there are sometimes two or more straight guys jerking together (but not necessarily each other), and there is good filming and plenty of focus on the cum shots. The sounds is good too so you hear not only the interviews but the slapping of the cocks and the grunting as the boys get ready to shoot. Each model comes with a set of stats and some info too, so you get to know a little more about him before you start to enjoy his session and, hopefully, your own - these are movies you're going to want to join in with.
Members are well looked after in terms of viewing options. There are full length scenes to download in three kinds of players (WMV, Quicktime and Real) and there are clips too. These are all suitable for dial up and broadband users, and anyone in between, as there are four choices of resolution. Photo sets accompany the movies and the images here are good quality, digital stills at around 540 x 720 in size. The guys who turn up to earn an extra buck by knocking one off are nice and varied. There are some very cute younger twink types here (though they wouldn't want to be called twinks I'm sure) and there are some neat looking amateur, ordinary guys too. You have college dudes, street-boys, skater-boys, black guys, Latinos, plenty of white trash and muscled men too. So you're going to get loads of that all important variety.
Straight Boys Jerk Off has been improving since day one, and everything is now just about right, Navigation is simple, even when in an individual scenes' main page you can click back to Home or the Episode list. The text is well written and easy to read, there is lots of information about the boys and scenes, and links to the content are nice and clear. There is a members' poll running on the home page where you are also told what's new and what's coming soon. And members can also access five bonus sites free of charge. These include the fabulous Broke Straight Boys I mentioned, for more straight sex, but this time the guys get it on with each other for cash and for fun, and College Boys Physical which is a fab place for medial sex, college boys, threesomes and gay hardcore.
Bottom Line:
Not only will you find value for money here but you'll find exactly what you want to see; genuine straight guys, great filming, hot boys to view, loads of bonus content and regular updates. The faster server is helping to push this site to the top of our reality favorites.
VISIT Straight Boys Jerk Off NOW!
VISIT Straight Boys Jerk Off NOW!