Raging Stallion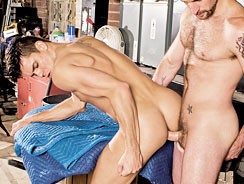 JUB Site Rating:
0 total vote





Updated: 2012-10-26
Primary Categories: Multi Site Networks
Secondary Categories: Bareback, Bears, Big Muscles, Black Men, Bondage, Euro Guys, Fetish, Gay Hunks, Gay Porn Stars, Group Sex, Hardcore, High Definition, Mature And Older, Outdoors Public Places, Tattoos Inked, Video Downloads
470 Galleries
489 Videos
Raging Stallion's Billing & Pricing
Raging Stallion's primary billing processor: In House
Raging Stallion's optional billing processor(s): Ccbill
4.95 for a three day trial, recurring
29.95 for one month recurring
49.95 for three months
99.95 for one year
VISIT Raging Stallion NOW!
Now with access to Raging Stallion you can get access to seven sites in one. Things have changed slightly here and although this is still a top and famous name in the world of gay porn, it is now set to get even more top and famous; if you see what I mean. What we're looking at here is a once in a lifetime opportunity to be a part of one of the best gay adult sites around. OK, so it's not once in a lifetime, but...
Sign up (reasonable prices though the trial may be limited) and you are in to the main hub of the network. The most recent movie is featured top of the home page though it's not going to stay there for long as the updates are coming in at the rate of around one every three or four days. You have the facility here to select the content per site if you want, and there are the sites that you now have access to and content form: Raging Stallion Studios, Monster Bang, Hard Friction, High Octane, Hairy Boyz, Xtra Inches and Sex Gaymes.
You might recognise some of those titles as they've been around for a while and if you do then you will know that they all offer good quality content. The only problem I can see with his membership is that a lot of the content from these sites might strike you as similar. Hairy guys, hunks and older men, hard sex, a bit of leather, gang bangs, beefy boys and tough models all of them; with some smoother ones from time to time. It's not a twinky or Asian, or vanilla or dreamy kind of set up here, it is wall to wall testosterone and hung male throughout. So if that's your thing then there's no problem at all. And actually, within some of these sites there are jocks and sporty types, some gorgeous young swimmers and athletes and a bit of a mix, so I shouldn't worry.
Looking at numbers, there were 275 full DVD titles here and 15 categories to sort them into. There is also an 'All Scenes' facility and clicking this brought me 1,354 scenes dating right back to 2000 and bringing me scenes in various categories from Bareback to BDSM. As for viewing options with the videos, you get some choices for streaming; I found formats from 240 to 540Pp in the most recent streams and no downloads. Runtimes were between 20 and 35 minutes per scene.
As for other content and details: there were 1,120 guys in the model index, most of whom were shown with a face or body shot. There are bound to be some names here that you recognise, plus lots you've not met before and each guy comes with links to his performances. There were then 2,225 photo sets to browse through, an archive of live shows plus access to a live show with your membership. I was told that this was 'coming soon' and there hadn't been one for a while so I wondered if that was being re-organised as the site settles in to its new role as 'network.' We shall see. You're also going to find links to other sites, stores and so on, 11 feed sites (not that you need them), a choice of site languages, a favourites function, help and support and a general search engine.
Bottom Line:
Raging Stallion is big and beefy, it's now comprising seven similar sites with a little variation, it offer good quality hardcore, hot guys and frequent updates, but it is streaming online only.
High Definition - No 540p was the highest I found
Other review sites mention 4,500 kbps @ 1280 x 720, but I didn't find this.
DRM Free Porn - No, stream only
Downloadable - No
Content Format - Videos, DVDs, Galleries
Live Shows - An archive and offered as 'Coming Soon' but no schedule
Bonus Content - Yes, Feed sites, behind the scenes extras
Multiple Site Hub - Yes
Content Updated - As a network, about every 3 to 4 days
Safe Sex Notice:
This gallery contains images of unsafe sex practices, also known as barebacking. Engaging in sexual practices without the use of a condom is a risky and unnecessary behavior. There are a lot of studios including the one listed on this page that film bareback or have bareback scenes in their content libraries. The images presented below should only be used for fantasy and you should not deceive yourself into thinking that "everyone is doing it." Further, you should not assume that just because you see photos or film content of barebacking that sexually transmitted diseases have been miraculously cured. HIV and other sexually transmitted diseases are very real and potentially lethal. Please practice safe sex in your own life and educate yourself regarding the dangers of not wearing a condom before having sexual encounters. Visit AMFAR for more information about safer sex.
VISIT Raging Stallion NOW!
VISIT Raging Stallion NOW!