Japan Boyz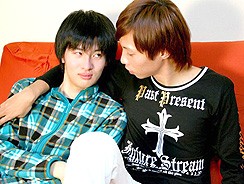 JUB Site Rating:
0 total vote





Japan Boyz's Billing & Pricing
Japan Boyz's primary billing processor: Paycom
$1.00 for one day recurring
$6.95 for three day trial recurring
$29.95 for 30 days recurring
$69.95 for 90 days recurring
$139.95 for 180 days non-recurring
VISIT Japan Boyz NOW!
I'm just trying to think, off the top of my head, if I can recall visiting a site that was about Japanese boys before. And I don't think I can. But I'm also trying to think if I've visited an Asian network as well stocked and as well planned as this one. And I don't think I have. So Japan Boyz not only gives us some rare niche content, but it also gives us access to other Asian sites, amateurs, toons and an ebony site. There's a bonus list in the members' area which makes signing up for this one site great value for money.
But that's only one aspect; the main thing here is the Japan element of the site and I expect you're wondering what that's like. Well, I can tell you straight off the bat that you get what the tour promises: streaming movies, downloadable ones, HD quality, sexy Japanese youths, hardcore scenes, loads of extras and great ways to get involved.
(By rating and commenting, not by actually joining in with the filming, though you never know - write and ask!)
You start off with a home page that lists your recent updates and there must be someone somewhere constantly pouring content into this site. Updates happen more or less every day. You've got pics of the latest work too, plus a handy top menu to take your around to all parts of your members' area.
I found 142 videos when I called in, with an average run time of around 15 minutes. There was a decent flash stream, then downloads for high definition versions and ones for iPods too. A set of thumbnails shows you what's going to happen in each scene before you commit to a stream or download, but basically you're gunna get sexy and young Japanese guys sucking and fucking their brains out in realistic scenes that end up in some kind of sticky white mess. Well, I just caught one scene, one of the ones with the dumbbells on the cock - you'll know what I mean when you get there - and this scene didn't have a cum shot. But I wasn't disappointed, they are not the be all and end all of everything. This scene was mainly shot from below with one cute guy licking and sucking the other guy's cock and that in itself was horny and erotic enough.
Other scenes are more hardcore, with plenty of smooth and tight asses being thoroughly dealt with. And then you've got over 200 hot galleries where you can see the same, and other, action taking place. For those that hate them, there are screen caps here and you're told when this is the case, but the ones I saw were high definition screen caps and a good quality, if not a huge size.
As I said, there are bonuses here too: there was a page of third party feed sites for more streaming porn, some of it Asian, and there were links to Asian flavored cam, chat and dating sites - you may have to pay more to use all of what they offer. But you won't have to pay any more for the six bonus sites, two of which are Asian themed, and all of which offer the same neat viewing options, interactive things to click and do and good stocks of content.
Bottom Line:
So far in my reviewing career Japan Boyz is the only Japanese twink site I've seen, so it's got to be the best hasn't it? But even if there were others
(which there probably are)
I doubt they would come close to this one in terms of hot guys, hard sex, content numbers and quality, and extras and bonuses.
VISIT Japan Boyz NOW!
VISIT Japan Boyz NOW!