Arm Pits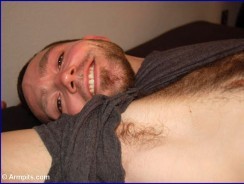 JUB Site Rating:
0 total vote





Arm Pits's Billing & Pricing
Arm Pits's primary billing processor: Ccbill
$14.95 - 7 Day Trial
$29.95 - 30 Days
$69.95 - 90 Days
$34.95 - 30 Days - One time transaction, charged to your telephone bill.
VISIT Arm Pits NOW!
'Are you ready for a Pit stop?' asks the tour page and I love it already, and I also love the well sexy lads who appear on the first page of the tour. Having now looked around the site more fully I can tell you that all the guys here are sexy, well put together, straight looking and horny. There is a lot of armpit worship going on as you'd hope from the site title but there are other fetishes explored too and plenty of hard-core action to go along with it.
To start with you have 33 exclusive movies that are available in clips or as a complete download. Click one of the tempting titles like 'Raul - rubs cum in pits' and a new window opens with that movie's link on it and a nice big shot of some of the action. You can stream in two speeds and two players (WMV and Quicktime, DSL or modem) and you can also download the files too. If streaming then you may need to add in your login details to get to the files, but downloading seemed to be unrestricted. I tried a lower quality file and was more than pleased with what I saw; the screen was only 320 x 238 and the move ran at 420 kbps but the quality was still fine and there was no break up at all. Even at full screen it was perfectly watchable. This one was a two way action scene with a couple of very fit guys, some great camerawork and hot action that was well captured. There was armpit worship, foot play and rimming involved as well as the usual oral and anal.
There are other solo movies too of course with lots of under the arm attention and close ups. The site supplies you with other fetish material, as I mentioned, and, by scrolling down the movies' page, you'll get a good idea of what they are. There was some tickling in the shower, beneath the arms again, lots of foot fetish content, cum shots, facials, foursomes, wet underwear, showers and ass play. And that was just in the exclusive movies section.
Back on the main pages you'll find over 80 good quality photo galleries and Armpits.com has managed to find models who fit perfectly into their site and standard; sexy young guys, hunkier older ones with defined muscles and all of them with great cocks and pits and asses and... well you name it and they show it off in the photo sets.
After all of that content you're still not finished; you have 75 bonus videos and galleries. These are not exclusive of course and come from other places (I now not where exactly) but they still manage to keep up the standard and focus on the fetish side of life. There are watersports, more under arms and other fetishes explored here and this content is easy to access. And if you really want to get specific you can view the 'Show Us Your Pits' site that you can link to for free. Here the webmasters go around photographing ordinary - though sexy- guys off the street and snapping their underarms. Something for the real pit fetishist.
Bottom Line:
For a site that is a bout armpits this one is great. There is enough pit work to keep any pit-fetishist happy for a long time and there is enough of everything else to appeal to the rest of us. Don't think it's going to be a boring site about under arm hair and sweat only, because it's not. If this was a general gay hard-core site I'd be happy enough with the models and the sex but, with the emphasis on fetish, it does really well. Excellent quality, great guys, sexy movies, good extras, neat design; it's all in there and it's all easy to use.
VISIT Arm Pits NOW!
VISIT Arm Pits NOW!