Buzz West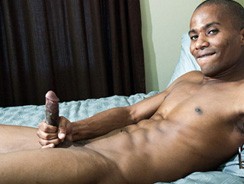 JUB Site Rating:
0 total vote





Buzz West's Billing & Pricing
Buzz West's primary billing processor: Ccbill
$19.95 for 30 Days
$29.95 for 30 Days - Nonrecurring
$53.95 for 90 Days - 3 Month Membership
$89.95 for 183 Days - 6 Month Membership
VISIT Buzz West NOW!
Buzz promises us nothing but frustrated straight guys who simply need to get their rocks off and who are prepared to do it for the camera. He tells us that many of his models are from the military, pulling into San Diego and ready, willing and able to jerk off for the camera. The tour certainly looks mouth watering, the guys look 'boy next door' types with great bodies and juicy cocks so I, for one, can't wait to take a proper look around inside.
The members' menu contains links to three main areas (and to other information) and these are: Home, Models and Genres. The home page shows us the latest hot stud to hit the pages of
Buzz Wes
t and their body pics lead straight to the individual pages. At the bottom you will see a link to 'all models' and this will take you to the model index. Here there were 16 pages containing over 135 guys. And what guys they are! Young, hung, fit, dark, sexy think of your favourite adjective and there you have that kind of guy. Some, I notice, were courtesy of Dirk Yates Live; I've seen his work and his guys are great performers with hot bodies so you can't go wrong. There are plenty of exclusive guys too though and they are just as hot. To separate the two just use the 'genres' link and you can choose between the exclusives and the ones from Dirk Yates.
What's really neat about this site, apart from the boys and men, is the design. Navigation around the models index is really easy and quick and, when you finally decide on who to examine in more details, simply click him for his full page. Or for their full page as some of the content involves couples and some three-way scenes. On the individual details page you get the boys' names, a write up about them, a set of thumbnails that lead to 3 different sizes of photos and the videos for your enjoyment.
With the movies you have a choice of three qualities (256k 512k and 1025kbps), you can stream or download in these qualities and there are versions for iPod and PSP too, so a great set of viewing options. To give you an idea of sizes, the medium sized file download was 90 Mbs and the larger file was 194 Mbs. The streaming version was good quality and the streaming started quickly. You can also use the slider on the player to fast-forward if you want to get straight to the nude action. Videos ran for around 25 minutes, were well filmed and if you like to see straight guys jerking off, solo or together, then way-hey! You've got it made.
Most of the hunks that appear here are your jar-head, smooth bodies types with tattoos. They have a real, amateur look about them but that doesn't mean they are unattractive or don't know how to jack off. In their write ups you can discover if they are straight or not and there is usually an interview with them at the start so you can judge for yourself; the two way talk between model and director often continues through the scene as they get direction and let the cameraman know when they are coming and this, surprisingly, works well.
Bottom Line:
I could spend hours telling you about the great content and quality of the
Buzz Wes
t site but it's best that you go and explore for yourself. The tour doesn't lie to you ... you get the guys you see there and each scene is well made and hot. For straight, amateur and military studs this has to be the pace to be. And, not only do you have these guys to keep you hard and happy you also have access to some good feed sites too. It's almost too good to be true.
VISIT Buzz West NOW!
VISIT Buzz West NOW!