Gay Dome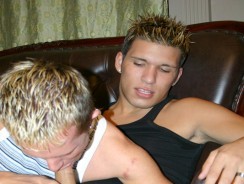 JUB Site Rating:
1 total vote





Gay Dome's Billing & Pricing
Gay Dome's primary billing processor: Paycom
$4.95 for 3 days then $39.95 recurring every 30 days
$9.95 for 7 days then $39.95 recurring every 30 days
$39.95 monthly recurring every 30 days
Three Month Membership is : $69.95 (non-recurring)
VISIT Gay Dome NOW!
So there I am with a bleached blond cutie named Jordan. He'm got this adorable boyish face but a body that shows he'm all man. He introduces me to these two friends of his who are no less hot. We're hanging out at the beach, just kickin' back and having some fun when they suggest we go back to Jordan'm place. I'v not about to pass this up so I follow. We're sitting in his living room when the guys drop their pants, revealing two enormous throbbing cocks. Jordan is like a kid in a candy store as he eagerly tastes these two "suckers". I watch in amazement as this scene progresses. Next thing I know, Jordan is on his knees and these two, slim, smooth cuties are tag teaming my new friend, and he really makes it all worth their while. They play a nice little game of piggy in the middle, using both his holes for their enjoyment, and I, being the voyeur that I am, sit here totally getting off on it all.
Okay, while I'd like to tell you this all happened down at Venice Beach and I just got home, I can't. The truth is that this is a scene from an amazing new site I've found called GayDome.com.
I'v at a loss to tell you what the Gay Dome itself is. Is it like the Astro Dome but instead of sports they play all kinds of sex games? Maybe the "dome" is someone'm head and he'm having all kinds of horny dreams of sexed up twinks and horny hotties. I don't know. But I do know that it'm a site I'v going to go back to again and again.
Not only do you get access to the Gay Dome gallery with amazing photos and videos in many different sizes and formats, but you also get connected to a vast network of sites with many kinds of interests or fetishes.
One of the features that I love is that you can add any site on the network to your own "Favorites" section, so next time you go back to the site you can go right to Roughcuts and watch that video that got you really hot, or to SexGaymes to check out the horny fun these sports guys get up to. Since there are so many different sites on the network I like to visit a different one every time I go there, so this feature makes it really easy for me to find the ones that I like the best without having to go all over the site looking for them.
Bottom Line:
Great videos and photos, so many bonus sites and the adventures of Jordan and his friends. I see no reasons why not to get a membership to Gay Dome, even if you don't know what a Gay Dome is!
VISIT Gay Dome NOW!
VISIT Gay Dome NOW!