Michael Julian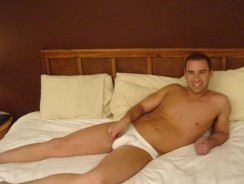 JUB Site Rating:
0 total vote





Michael Julian's Billing & Pricing
Michael Julian's primary billing processor: Ccbill
$19.95 for 30 Days
$9.95 For 5 Days (Recurring at $19.95)
$12.95 For 5 Days (Non-Recurring)
$29.95 For 30 Days (Non-Recurring)
VISIT Michael Julian NOW!
There's a little part of all us that likes to be bad from time to time. You know, cruise some rough type and follow him down a deserted alley, wondering if he'll let you get your knees dirty and greasy while you kneel down to suck his cock.
Michael Julian
, a fairly new gay porn site, caters to the
good boy/bad boy struggle
in all of us. In fact their slogan is
"Fuck the boy next door, we like the one across the street."
Sometimes
GQ models
and sometimes
heavily tattooed guy and almost thug-like
,
Michael Julian
presents an interesting and
hot mix of guys
. Some of these guys are beautiful; the kind of men you'd like to have on your arm at a big gay fundraiser so everyone can swoon over how lucky you are. And other of their models are
the kind of guy that would spit between your cheeks, push your face into the pillow, and ram their big cock home while you whimper for mercy
.
Each model gallery has both pictures and videos, but the pictures are sorted into two sections:
Envy and Sin
. The Envy galleries highlight the guys in more artistic settings. The pictures are softcore with mostly clothed, underwear, partially nude poses, or fully nude but with genitals conveniently out of the way. The Sin galleries are where the
guys get nasty in solo jack off sessions
.
Michael Julian
doesn't make a big deal about whether the guys are
straight
or
gay
. And I like that. Sometimes they quip, "A big SHOUT OUT to all the girls out there who were nice enough to lend us their rock hard boyfriends". But mostly
this site is about celebrating hot guys who like to show of their bodies and put on a little jack off show
. I'm a gay man and I like to
watch guys pound their pud
. For that moment in time, they're all mine, and I don't care whether they like men or women.
The pictures and videos could be a little bigger. But they're well done and the videos, which are in Windows Media Player format, download very quickly. And members have the choice of watching clips or downloading the whole movie. And their free preview area provides a downloadable free clip of each model, so you get a little taste of what's inside.
And I'm not sure, but I think
Michael Julian
is a bit of a size queen. Most of the guys featured on the site fall into the well-endowed category. And a handful of them, well, let's just say if I were locked in a room with them for a few hours, I'd have trouble walking for a good week!
Bottom Line:
Michael Julian
has a great mix of good looking, romantic types and bad boys that your mother warned you about. Guys in their twenties with a few in their early thirties.
VISIT Michael Julian NOW!
VISIT Michael Julian NOW!