Men Over 30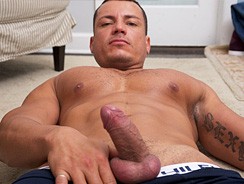 JUB Site Rating:
1 total vote





Men Over 30's Billing & Pricing
Men Over 30's primary billing processor: Ccbill
Men Over 30's optional billing processor(s): Netbilling, Paycom
Credit Card, Online Check, 900# or Snail Mail Payment
$29.95 - 30 days - auto rebills
$69.95 - 3 months - no rebill
VISIT Men Over 30 NOW!
It is a popular misconception that the entire porn loving public wants to see 18 year old twinks and 21 year old frat guys. The truth is, for each type of guy there is, you'll find tons of horny men who are hot for them. One type that I find really sexy is older men. And Men Over 30 caters to anyone who wants a boyfriend they can sometimes call Daddy. Or maybe you've had a secret fantasy about your doctor, or recall being turned on by your gym teacher in high school. Whatever the case, Men Over 30 gives you the hottest guys who still have great bodies but also a sexy maturity that might be lacking in some of the twinks you usually lust after.
The site is jam packed with features. Because of this you'll need to take a little time to familiarize yourself with the layout. I have to admit, I was a little overwhelmed at first but once I got the hang of it I had no problems. Right down the middle of the page are all the newest videos. Just above those is a link that will take you to an index of all the exclusive videos. From here you just choose a guy you can't wait to wank to. Pretty easy. You'll notice that you not only find a random splattering of hot older models but you'll also have some big names from the porn industry who fit the Daddy bill quite nicely such as Tyler Saint, Josh West, and Matthew Rush.
Clicking on a video will give you a choice of several options from streaming Real Player and Windows Media
(DRM free)
and two sizes of Flash videos. There are higher quality versions of the video available as well. The quality is top notch regardless of the size, so try them all and see what works best with your system. There's a great photo gallery too because everyone loves to grab a few photos. And a feature you don't normally find on adult sites, something called "Man Talk" where the guys in the video you've just seen talk about the experience of filming it. What a great way to get to know the guys you are jerking off to.
Once you start navigating around the site you'll see a menu to your left that will take you to each page of the MenOver30 site. In addition to the exclusive photos and videos they have a bear section, first timers, bi guys and other sections, each with their own interests. There are also bonus sites, a broadband theater, and an online store where you can get lots of porn DVDs, adult novelties and clothing.
Bottom Line:
The site may take a little getting used to and it may take a little while going through each of the many different sizes of the videos to get the one that works best with your system, but once you're all set up you'll really enjoy it. If guys over 30 is your thing you'll find tons of these hot older guys to get your rocks off too and tons of bonus features.
VISIT Men Over 30 NOW!
VISIT Men Over 30 NOW!