Australian Males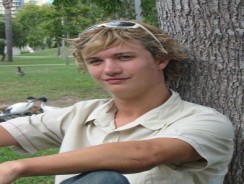 JUB Site Rating:
0 total vote





Australian Males's Billing & Pricing
Australian Males's primary billing processor: Paycom
$39.99 for 30 days then $24.99 every 30 days
$49.99 for just 30 days
$74.99 for 90 days then $24.99 every 30 days
VISIT Australian Males NOW!
Here it is, another horny day sitting at the computer looking for something hot to pound my pud to. I've been really into
Aussie guys
lately so finding
Australian Males
got me really excited. Right from the front page where they teased me with a profile for Brett, a handsome guy with a killer smile who is 6'2", plays rugby and loves the movie Bad Boys 2. Not that I really needed to know all that while I'v staring at
his rock hard dick
, but hey, it ads to the fantasy. So I clicked on his profile and was treated to a full gallery of photos that show off every inch of
his muscular rugby-playing body
, one of which is the current wallpaper on my computer, heh heh. After I was done examining them I decided that I needed to hear that amazing accent, so I clicked on his movies. There were several to choose from, my favorite one was where he was being interviewed and talks about his favorite sexual fantasy and the ins and outs of his sexy body. I think it'm just that I could listen to those
sexy Aussie boys
talk for hours. Of course, the video where he'm jacking his cock ain't bad either.
There are a lot of reasons to love this site. First of all, the guys from down under are all so damn sexy. Second of all, the quality of the pics and videos are amazing. I would have liked more choices with the video, but I had Windows Media anyway, and that seems to be the player of choice for this site. There are sections for the models, so you can get as much of each particular model as you like at the model specific photo and video galleries. The XXX galleries feature some really hot guys getting into some off the wall sexual situations, like the
yummy Lifeguard Twins
, and
Rico and the Beast
(where a hot stud is sucked off through a glory hole by a gnarly older guy, freaky but still kinda hot.)
. And the bonus galleries are a hodgepodge of random photos that are like peeking into a grab bag to see what kind of prize you are gonna get.
In addition to all that there is a whole section of full length movies, where you can just set them to run and enjoy yourself. I got a bit of a voyeuristic thrill out of watching "The Seduction of Ben" where a really hot and hunky straight guy is tricked into putting his stiff rod into a glory whole without realizing the mouth at the other end is another guy! Pretty hot stuff.
You also get access to a hot webcam chat site, gay erotic stories, and a whole bonus content zone. All in all there are so many things you can get into here you'll want to keep coming back so you can see it all. And they keep updating so by the time you see everything, there's more to see again.
Bottom Line:
There are
tons of sexy Australian guys
on this site in a vast number of photos and videos. Add to that all the bonus features and the easy to use interface and you have a site that is well worth the low membership fee.
VISIT Australian Males NOW!
VISIT Australian Males NOW!