Amateur Straight Boy Videos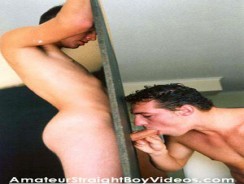 JUB Site Rating:
0 total vote





Updated: 2006-05-24
Primary Categories: Straight Men
1 Galleries
Currently No Videos
Amateur Straight Boy Videos's Billing & Pricing
Amateur Straight Boy Videos's primary billing processor: Paycom
$34.99 for 30 days then $24.99 every 30 days
$49.99 for just 30 days
$74.99 for 90 days then $24.99 every 30 days
VISIT Amateur Straight Boy Videos NOW!
AmateurStraightBoyVideos.com
is a great site for vicariously living out all the fantasies you have about that straight guy who works at the coffee shop, or the construction worker you pass every day, or your friend that you always wanted to bang.
When you log on to
Amateur Straight Boy Videos
you are given several choices. You can go to the general
XXX Movies
and watch a large selection of videos featuring
guys with amazing bodies
yet real enough that you don't think of them as having been in the makeup chair for an hour and coached on what to say. There is a whole section of Gloryhole movies, which are amazing to watch. There'm something really hot about watching a guy who'm thinking
he'm getting blown by a chick in a glory hole and then finding out that it'm really a guy'm mouth that'm just got him off
.
Then there'm a section on "model movies", where you can pick a video from a whole gallery of thumbnail sized pics featuring each model'm face. It'm kind of neat to scroll through all these handsome faces and choose which one you want to see more of.
The videos are all in Windows Media format, so if you use another type you'll have to download WM, but that shouldn't be too much of a problem. Believe me, it'm worth it. The quality is really good. And you can download the movies and save them for later.
In addition to all the great amateur videos you'll have access to, there are several bonus sections that will help you get your rocks off. You can browse through some nice PG rated photo galleries, but you'll probably want to jump right to the XXX photos in the next section, I know I did. There'm also a link for some fun games, really hot erotic stories and a Photo Archive with a whole collection of random pics of hot horny guys in all kinds of situations.
Bottom Line:
We've all had those fantasies about straight guys, don't deny it, and
Amateur Straight Boy Videos
is the perfect way to blow off steam rather than get all frustrated by not being able to actually get those straight guys. It'm fun, and a little naughty, to watch these guys enjoying themselves while unknowingly being blown by other guys. And with all the extras, you'll have a lot of good jack-off material that you'll want to keep coming back for.
VISIT Amateur Straight Boy Videos NOW!
VISIT Amateur Straight Boy Videos NOW!