Videobox Men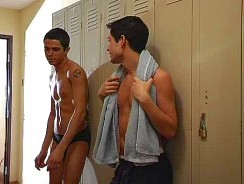 JUB Site Rating:
0 total vote





Videobox Men's Billing & Pricing
Videobox Men's primary billing processor: Ccbill
Videobox Men's optional billing processor(s): Paycom, Verotel
Premium $14.95per month
Basic $9.95 per month
VISIT Videobox Men NOW!
As the English say, 'Blimey!' where do I start? Videobox Men must be one of the best collections of quality gay porn movies around at the moment. A quick look at the stats will tell you that there are: 62 categories with between 2 and 336 titles in each one. If you click the 'all' tab you have 19 big pages of titles, box shots, star ratings and information. There are 380 full length movies in 1,800 scenes to be viewed here with new updates coming at you all the time.
Ok. so it's a well stocked site but how does it work? Easy really, chose a category, let's say 'fantasy' (for a change and because I couldn't image what would be there) and up pops the page of fantasy themed videos. I clicked 'Virtual Fantasies' and its own page opened showing me who was in it, who made it, when it was added, how it was rated and what it was about. Beneath this were the various scenes, five in this case, with good sized thumbnails to give you an idea of what is in each one. You are also told the run time here and who is in each scene. As a member you can cast your votes, once you've viewed it of course, and you can also see how other members have rated it.
But it's when you click on the download button that things really start to get interesting. You'll see a film strip with thumbnails from start to finish, drag the one that shows where you want the clip to start up to the left and your choice of finish up to the right then select your choice of quality. The movie buffers (in Windows Media Player) and then plays only that part of the scene hat you have selected. This is great if you only want to see the cum shots or the oral or whatever your particular fantasy is. This is a great feature in my opinion and one I'd like to see on other sites; it just goes to show how much work the webmasters put into the site. You can, if you want, stream or download the entire scene and there are clear instructions on how to do this.
With so many varied titles and genres it's hard for me to give you plot outlines or describe all of the action available to you. Suffice to say that there are only good quality and well made movies here. The clips I saw didn't contain any of that 'model looks to camera for instruction' nonsense that I've seen elsewhere. What they did contain though was a wide variety of hot, hard-core gay sex in many locations and with many different looking guys. A lot of everything all in one place would sum it up and, as there are no DRM restrictions on the movies you are able to keep your favourite ones forever. And talking of favourites you can add any scene you like to your personal collection to view again later.
If you have any comments or suggestions or even want to request that a specific title, studio or star be added to the collection there is a good help page where you can do all this. You can also search by studio and star by the way, so lots of interactive goodies are on offer.
Bottom Line:
Before you enter the site you'll see the publicity and the good ratings it has got from review sites. And deservedly so; this is a good and varied collection with excellent choices of download options and no DRM restrictions. I love the 'do it yourself' scene builder and was very impressed with the amount of information you get about each movie. If you want to download and keep some great sex flicks then this is the site for you.
VISIT Videobox Men NOW!
VISIT Videobox Men NOW!