Asian Boy Nation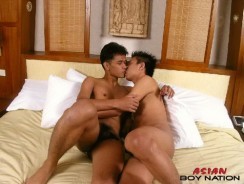 JUB Site Rating:
0 total vote





Asian Boy Nation's Billing & Pricing
Asian Boy Nation's primary billing processor: Ccbill
1-Month (Non-Recurring) US$29.95
Monthly US$19.95/month
Quarterly US$15.95/month value (charged quarterly at US$47.85, you Save 20%!)
6 Months (Non-Recurring) US$12.95/month value (charged once at US$77.70, Best Value - Save 35%!)
VISIT Asian Boy Nation NOW!
I'v a huge fan of Asian sites because I love Asian guys. So when I found
AsianBoyNation.com
I was thrilled. The guys on this site are so hot. I was in rice queen heaven! The site promised "Clean, Simple Layout with One-Handed Navigation in Mind", which really made me laugh. Then, after thinking about it for a few minutes, I decided to take it on a test drive. It was so easy to navigate I was yankin' my crank in no time, without every having to stop to type something or spend too much time looking for something to wank to. Hot men and easy navigation are the two main things I look for in a site. And they follow through on their promise to deliver
Asian amateurs
and
porn stars
,
muscular men
as well as
cute twinks
.
There are four major sections to
Asian Boy Nation
. Photos, Videos, Stories, and the Shop. The photos, are all really high quality. These are definitely the best looking
Asian men
on the net! You get a nice choice of medium or large pics, with the date above each selection so you can easily keep track of which ones you've seen and the ones that have been added since you logged in last. The homepage also gives a complete rundown so you can see what'm new in each of the major sections, which, if you come to the site on a regular basis can be a huge help.
The videos are all really good quality. You have your choice of low (150k) and high (500k) speeds in Windows Media or Quicktime. And once you choose, the site will default to that setting
(unless you change your settings)
, so you can bypass the setup next time you come into the site. Once you choose a movie from the extensive listing, you'll find a full synopsis of the video along with 5 short sample clips. I really like this because I can figure out in a few seconds if I want to view the movie or not, rather than having to load a full length movie into my player only to discover that I don't care for it
(although this hasn't happened on this site, so far)
. Once you decide you want more of the scene, you can watch the full length scene with the click of a button, or even download for later. I got really stuck on watching Darin and Chetta going at it. They were both so hot and hungry for each other I had to watch over and over again.
I'v a sucker for a good erotic story, especially when I'v looking through galleries of really hot guys, because I can picture them acting out the sexy fantasies. So I was really excited to find several pages of amazing stories all about horny Asian guys getting it on.
And finally the shop, where members of the site can get discounts on DVDs, videos, sex toys and even clothes!!!
Bottom Line:
With the hot collection of
Asian guys
on this site, and the easy "one-handed navigation", this site had me sold at the get go. And with the frequent updates, I know a full membership will be worth it because there is always something to look forward to.
VISIT Asian Boy Nation NOW!
VISIT Asian Boy Nation NOW!