Guys Go Crazy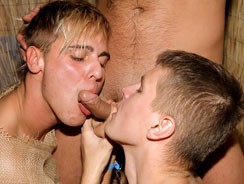 JUB Site Rating:
1 total vote





Guys Go Crazy's Billing & Pricing
Guys Go Crazy's primary billing processor: Vxsbill
Guys Go Crazy's optional billing processor(s): Ccbill
29.95€ - Monthly
VISIT Guys Go Crazy NOW!
It's too outrageous for words, honestly! A whole gang of sexy boys (where do they get them from?) arrive for a party and before you can say, 'whoops there go my boxers' the kit is off and the sex has started. I have a question: How do I get invited to one of these orgies?
But this is no ordinary orgy site. There is no 'cut! Let's do that again' kind of direction, no one looks to the camera to see what they should do next, there are no scripts and everything happens naturally. There must be some kind of pep talk from the film crew before things get started, I guess, but if there is then it doesn't show. Simply put, what you have are guys turning up for a fuck-fest that gets filmed and presented to you in the raw.
But that doesn't mean that the movies are not edited or well produced. They are more than just someone wandering around a floor covered with writhing bodies. What's unique about Guys Go Crazy is that it employs three cameras per event. Each one has its area to cover and you get to choose which version you view. But there is also an edited version of the whole thing with all three sets of film cut together to produce one, thirty minute, director's cut. In this version you get to see the best bits of everything, which means that you actually have four versions of the event to view.
And viewing is easy. With each episode you have some thumbnails and a good description of the party, most of which are themed, so you get variety too. Beneath these are links to the three cam versions and the full edit, plus links to the screen caps from each one - so you can have a look and see what went on where. This helps you to make up your mind as to what to see. You can download or stream the movies and download or view on line the images.
Usually things start off like any other party or night out with guys dancing, maybe a stripper to help get the blood pumping in the right direction and some other on stage entertainment. But before long someone has got their dick out and the fever soon spreads. You might find a couple humping in a corner, watched by another group of bottomless boys, or there could be a bottom guy being fucked at the bar, a well built guy being blown on the dance floor - with so little inhibitions in the room it really is a matter of 'anything goes'.
And, just to make this site really special, you are going to get a new episode every week, with a gallery and 120 minutes of video. The guys are varied in looks but mostly cute, young, fit and hung. Considering that these are made on location, dealing with club lights and atmosphere, hundreds of guys and so much action, the video work is outstanding, good quality and well put together. You really do get to feel that you are there at the club - which is the next best thing actually being there if, like me, you have never been invited, hint, hint.
Bottom Line:
It's real, it's natural, it's great quality and it's updated every week with a new party. This has to be the best and most original site for reality orgy scenes. There are over 120 of them so far, all available to download or stream and all featuring the kind of guys we only dream about meeting at a night club: ones that will do anything. They say that at a Guys Go Crazy party anything goes. I saw a few and believe me, everything went!
VISIT Guys Go Crazy NOW!
VISIT Guys Go Crazy NOW!