Fetish Boy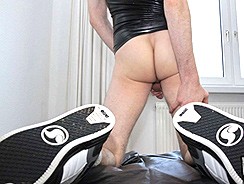 JUB Site Rating:
1 total vote





Fetish Boy's Billing & Pricing
Fetish Boy's primary billing processor: Zombaio
30 days recurring 19.95€ (~27$)
90 days recurring 49.95€ (~69$)
180 days recurring 89.95€ (~125$)
VISIT Fetish Boy NOW!
Here's a new site that's got its feet firmly planted in the wonderful world of foot fetish fun. Well, actually, there are other kinds of fetish action taking place in the 61 galleries and 49 videos as we'll find out in a moment. First off though, this is exclusive fetish action, the site contains streams only so there is no downloading, the members' area is very simple to use and the sign up deals look about right for a site of this size.
Once signed up and logged in you come to an account page where you can see the status of your account and find contact details. This isn't what you usually find at the start of a members' area but it's a handy place to note. You then click to Home and find the list of content, or you can look through it under Videos or Galleries. These are the only things you're going to find because it is, as I said, very simple in here.
Head to Videos and you find ten per page with large images, upload dates, keywords for filtering and a description. Click the title to find the viewing page and you discover that you have only one viewing option per scene or clip. The size is around 830 x 467, full screen is possible and looks fine, there was little buffering or stuttering so it looks like the movies are set to a decent resolution which should suit most connections. Movies run for various lengths of time, some are short at only a few minutes while others are more or less full length scenes. They are amateur videos in that there is no studio set up, but they are good quality and have a neat feel to them.
The galleries cover the same action, and a bit more, and come with the same basic details. (You can also rate the content as you see it.) There are various numbers of images per set and these click up to fit on the screen, though there is no right clicking and no way to make them bigger. You browse through them one at a time with no slideshows or zip downloads; so once again, it's all very basic. You will see upload dates and it looks like things are added here every few days with a new gallery or video at least once per week; mind you, there had been a time when there were no videos and only galleries, so there's no definite schedule.
But the action is the thing here and the videos and galleries are good enough quality to not give us any worries. You are going to find a lot of pump action and sexy guys wearing leather or rubber. There's a lot of the same guy, the Fetish Boy, and he's got his penis pump on his cock, or he's rosebudding his ass with it, he's jerking off into his sneakers, there's hardcore anal, skaters, socks fun, rubber play and even some very specialised fetish action such as nail-clipping. It's a big and sexy mix of all kinds of stuff and made even hotter by the fact that the guys on show are amateur and totally into what they are doing.
Bottom Line:
The bottom line here is that you've got some neat amateur fetish action that concentrates on rubber, pumps and cum, and that is shown in stream only videos that are good quality. It's a simple site, updates are happening pretty frequently, and there is some specialised stuff going on in here. Oh yes, and it's exclusive so you will only find it at Fetish Boy.
Tags:
Exclusive, fetish, sneakers, pumps, ass, cum, anal, rimming, feet, fisting, mask, socks
High Definition No
DRM Free Porn Yes
Downloadable No
Content Format Videos, Galleries
Live Shows No
Bonus Content No
Multiple Site Hub No
Content Updated Twice per week (not always regular)
VISIT Fetish Boy NOW!
VISIT Fetish Boy NOW!