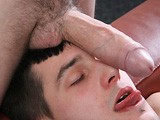 JUB Site Rating:





0 total vote





Updated: 2014-02-10
Primary Categories: Bareback
Raw Fuck's Billing & Pricing
Raw Fuck's primary billing processor:
Paycom
Raw Fuck's optional billing processor(s):
Paycom E.u
€19.95 for ten days then €24.95 recurring
€29.95 for one month recurring at €24.95
€69.95 for 90 days then recurring at €24.95 per month
VISIT Raw Fuck NOW!
Raw Fuck is a new, European hardcore bareback site that started up towards the end of 2013. It started up with a good load of videos showing us good loads of cum after some good bareback hardcore and it's going strong. It's all about uncut and sexy 20-something Euro guys and it is all good quality.

There are three sign up offers, and I found these in Euros. They are all recurring but looking at the updates and the schedule it looks like an on-going membership is going to be what you want, as this hot stuff seems to be coming in hard and fast and shows no signs of slowing down. There were already 138 scenes to get to grips with and each one of them was shown with a large sample shot, a preview, upload dates and description. This is one of those exciting sites where it is hard to know where to start first, so you might want to go to the model index first, here called 'Lads', and see the kind of talent on offer and then select a guy to view.

There were 43 hot twinks and jocks here, though Twink isn't quite the right word. There must be a European equivalent that also encompasses: smooth body and hung uncut cock, sweet lips, dark eyes, cheeky face, and streetwise confidence. That's the kind of guys I found here and I thought each one of them was just about perfect. I kind of fell for a cocky lad called Aslan Brutti so checked out his movie first.

Here I had the choice of streaming or downloading. These were both MP4 files and the download came out at 960 x 540 @ 2,000 kbps, which looked just find and gave me a very manageable file size. The stream was at 960 x 540, though there is also a version at 640 x 360, both were fine to view online as I discovered after watching a couple more of them. The movies ran for around 20 to 25 minutes in length and were great quality. At times I was put in mind of Bel Ami, but maybe without that layer of 'glossy studio look', these came across as more natural and unscripted, and worked brilliantly.

You've not only got good variety with the models but also with the scenarios. There are guys at work, biker boys, prison scenes, builders, camping trips, footballers and all kinds of other sexy fantasy scenes being played out. There are music soundtracks to these movies, and sometimes not a lot of original sound, though these tracks often help the scene along and fit it nicely. And the natural sounds do come through so you get a nice mix, though not a lot of dialogue, if any.

I would have liked a few more interactive options, you can rate the scene but that's it. There is no info about the guys in the model index, and only some have links in the scene descriptions, where there is also little information. It's clearly all about video viewing here and, when on the video index pages, you do have the content arranged into various categories. There is also a blog to visit for more info and the site can be viewed in English and German.

Bottom Line:
Raw Fuck has a simple title, a simple premise, it is a simple viewing site with downloads, there's not a lot of info or interactivity but already there is a lot of exclusive content with some of the best looking, natural, models I've seen coming out of Europe in a long time. My advice? Sign up now.


Tags:
European, Bareback, Raw, Cum, Twinks, Jocks, Teens, Amateurs, Exclusive

High Definition Yes
DRM Free Porn Yes
Downloadable Yes
Content Format Videos. Models.
Live Shows No
Bonus Content No
Multiple Site Hub No
Content Updated Three times per week (advertised)
Safe Sex Notice:
This gallery contains images of unsafe sex practices, also known as barebacking. Engaging in sexual practices without the use of a condom is a risky and unnecessary behavior. There are a lot of studios including the one listed on this page that film bareback or have bareback scenes in their content libraries. The images presented below should only be used for fantasy and you should not deceive yourself into thinking that "everyone is doing it." Further, you should not assume that just because you see photos or film content of barebacking that sexually transmitted diseases have been miraculously cured. HIV and other sexually transmitted diseases are very real and potentially lethal. Please practice safe sex in your own life and educate yourself regarding the dangers of not wearing a condom before having sexual encounters. Visit AMFAR for more information about safer sex.
VISIT Raw Fuck NOW!
There are 0 comments on this review
Login here to add your own comment:
VISIT Raw Fuck NOW!