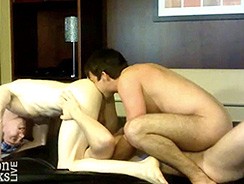 0 total vote





Updated: 2013-02-26
Primary Categories: Amateur
Currently No Videos
Club Jason Sparks's Billing & Pricing
Club Jason Sparks's primary billing processor:
Paycom
$4.95 for a one day trial rebills at $24.95 per month
$24.95 for one month recurring
$59.95 for three months recurring
$499.95 for six months recurring
VISIT Club Jason Sparks NOW!
Jason Sparks is a hot, good looking, hung, sexy, smooth porn jock who has his own site and who also appears in live shows. You've got a mix of exclusive videos and clips here and Jason gets to play with some equally as horny twinks and jocks in the videos. It's not an expensive site to join but it is not the biggest either. Its first piece of content is dated from June 2010 and it has 178 movies to show you. Recently the site has been updating at the rate of roughly once a week and your access will also get you into scheduled live show performances.

Clicking into the members' area you will find it's very similar to the tour. You can check out the latest additions or start browsing through the videos. Earlier movies were presented here with three stream options and an Mp4 download. (The highest resolution I found was 900 kbps @ 40 x 480). They came with a small set of images beneath the viewing screen and these opened up to 450 x 600 sized photos, though these were scaled down from much larger version. The most recent movie, a threesome in jock straps, came with the same viewing options and a small photo set with screen caps at 640 x 480.

There is a model index here and I found 63 guys in it. They were all shown with a large face or body shot and their name, and there were a few names I recognised: Jake Steele, Jayden James and Jason himself appear alongside gifted amateurs in some of the action scenes. Jason Sparks appears in eight Club Jason Sparks scenes and one from Dirty Boy Secrets: when you join here you get the combined content from three sites include Jason Sparks Live, which is not always showing you Jason, but other porn models too. So, not a huge content count, but a decent enough one and updates are now back on track after a while of being a bit hit and miss. The quality is fine, though some of the screen aps galleries leave a bit to be desired. The models are totally hot though and the scenes are well filmed. You've got decent quality productions, hardcore cock sucking and ass banging, rimming and solo fingering and jerk off scenes that will empty your nuts. And so all is well and good with the main content

As you browse it you find you can make comments and also rate the scenes; there is some information about them and the guys, but not a lot, but you shouldn't have any trouble finding what you want to see, or getting slightly interactive with your site. There is a news section on the main pages and a place where you can go to apply to be a model if you have what it takes to join the club.

Check out the Live areas on the top menu, ignoring the general link to a live cam site that you have to join to use, and find the Watch Now on the Jason's live shows page. Here you've got a schedule and countdown telling you when there will be something live. When there is you can log in and chat with other viewers while you view the shows. When I was in the site there was a show schedule for the next day. What I didn't find though were recordings of previous shows (unless they are mixed in with the main content?)

Bottom Line:
Club Jason Sparks could go further in feeling like an actual Club site, with more interaction, a forum, more news, links to a blog and so forth, and it could do with getting the update schedule more organised. But, on the whole it hits you right between the eyes with horny jocks in well-made hardcore scenes that are easy enough to view and a decent quality. You can get slightly involved and you have the added bonus of a live show included as and when it is being performed. It's a good price and definitely worth your time and money; especially when you want some pumping action from some very sexy jocks.

Tags:
Jocks, hardcore, smooth, solo, jack off, live shows, amateurs, porn stars, exclusive, anal

High Definition - No
DRM Free Porn - Yes
Downloadable - yes
Content Format - Videos with galleries, Model index
Live Shows - Yes, included
Bonus Content - Content from Dirty Boy Secrets
Multiple Site Hub - No
Content Updated - usually weekly, some gaps
VISIT Club Jason Sparks NOW!
There are 0 comments on this review
Login here to add your own comment:
VISIT Club Jason Sparks NOW!