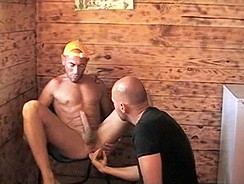 0 total vote





Updated: 2013-02-15
Primary Categories: Gay Hunks
French Lads's Billing & Pricing
French Lads's primary billing processor:
Paycom
French Lads's optional billing processor(s):
Paycom E.u
€29.95 for 30 days recurring
€69.95 for 90 days non-recurring
VISIT French Lads NOW!
Do you remember Jean Cadinot movies? Dreamy French twinks in borstals, magic tables that brought slim and hung guys from swimming pools? All those scouts gang-banging in soft focus? Well, forget all that because the next generation of French porn has taken over. French Lads covers just about every aspect of hardcore gay porn, and it comes from France I assume. Why then is the site in English and German? Maybe it's a German company. Anyway the point is: you've got 134 exclusive videos featuring 77 models to stream online.

And, er, that's it. That's' where the problem starts for me, there were no downloads and the movies were only at around 640 x 480 in size. There were no galleries, no interactive options apart from a star rating, no information apart from a description with each video, no stream choices only what you were given, no comments, no stats in the model index only names, and no news on updates though the tour promises us two per week.

So how come I liked this site so much? I think that's got to do with the no-nonsense attitude towards the whole thing. It's like they are saying 'Monsieur! This is what we are giving you and you can take it or leave it.' And what they are giving us is a big collection of sexy guys who, if their names are anything to go by, are not necessarily French. They may be, they may be living in France but with names like Dog Ryan, Emilio Seguar (cute) and Sasha Poliakoff, I'd say that these were European guys from all over. There are plenty of French names as well of course and I am not complaining; but it would have been nice to know more about them.

Anyway, as for the videos. There is a lot of variety, with the sex happening all over the place and in fact you have categories to choose from. These are neat and include some unusual ones, like Darkroom and Masked Tops. But don't think that this is all fetish stuff, it's not. There are some standard two on a bed fuck scenes, outdoor blow jobs and some younger with older ones too. There is some watersports action and something called Jess Adventures which I never got to the bottom of, though the threesome in a sauna scene it led me too was hot.

When you come to view a video you get one simple page with the stream on it. There is a choice of low or higher bandwidth and an embedded player where you can go full size. You can jump through the action and give the scene a star rating out of five. The quality is fine, hand-held, amateur, decent camera, decent sound and the performances are natural. Some even look like they were filmed on the fly with amateur guys being coerced into making the scene there and then. Runtimes also varied from a few minutes up to 20 or so.

That's kind of it; the video collection in two qualities of streams, the 77 horny and varied guys in the model index, a quick vote out of five and the promise of two updates per week. That might not sound like a lot on offer for your €29.95 (Euros) per month, but what you are getting is exclusive, and the scenes are generally clear and well made. They are varied too, and the members' area is very easy to browse and use.

Bottom Line:
If there were more interactive options like favourites and comments, more details about scenes and models, more news on upload dates and if there were downloads, then French Lads would get a higher score from me. It's not JD Cadinot but it is still pretty magnifique.


Tags:
European, French, Hardcore, Fetish, Sauna, Watersports, Uncut, Fetish, Twink

High Definition - MP4 videos 640 x 480 @ 1.3Mbps, and 480 x 360 @ 500k
DRM Free Porn Yes
Downloadable - No
Content Format - Videos Only
Live Shows - No
Bonus Content - No
Multiple Site Hub - No
Content Updated - Tour states twice a week but no dates published
VISIT French Lads NOW!
There are 0 comments on this review
Login here to add your own comment:
VISIT French Lads NOW!