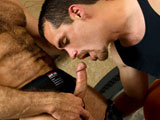 JUB Site Rating:





0 total vote





Updated: 2012-10-25
Primary Categories: Younger
Currently No Videos
Hammerboys Tv's Billing & Pricing
Hammerboys Tv's primary billing processor:
Ccbill
$12.95 for 30 days then $11.95 recurring
VISIT Hammerboys Tv NOW!
I've just got back from a tour around the Hammer Boys TV members' area and, to be honest, I am a bit 'mind boggled.' It's not just the hundreds of scenes that make your eyes cross, it's the sight of so many smooth, lean and cock hungry East European boys, all that flesh, all those dicks, all the jizz and all those colours and adverts and things to click. It's a bit over-packed with images if you ask me, but it is also well stocked with exclusive content in HD that you can download in various formats without DRM restrictions, and it's all for a really good monthly fee. And they fee reduces after the first month too so it's even better value if you stay as a member for a longer period of time.

Hammer Boys TV gives you content 85 full DVDs plus galleries. There were 583 videos and photo sets arranged across the index pages starting at the home page, so you are able to get right into the content as soon as you land in the members' area. You find that the galleries hold pics that fill your screen and stay sharp and clear and are taken from the action. And that action is all about smooth twinks and jocks from Eastern Europe.

The content is also arranged in categories which you can find from the very top menu. There are Falcon International videos, scenes from the full DVDs, a Big Dicks category, a Home Videos one, Gypsies, Auto Stops, Luis Blava, 'All movies', Exclusives and solos. These videos are all available to stream or download with a variety of viewing options. There were, for example, QuickTime, Flash, DivX, Mp4 and WMV formats at up to HD standard, and 1,280 x 720 @ 3Mbps. Plus other qualities as well. The quality is good here, no matter what file you chose to stream or take, you get good filming, great looking models and totally horny situations with a nice mix of solos, duos, and some group scenes as well. Take a browse through the categories and you are treated to what must be some of the horniest European twink movies around.

There is a certain amount of piss fetish action here as well, with seven movies in that category, though there was at least one scene in there that had no watersports in it, but it was set in a bathroom. I counted 98 'exclusive' movies in that category and eight in the home series where solo boys were jacking off, at home. The Gypsies area gave me 27 movies, some of which were also in other categories and where, I assume, the models were actually gypsies. It's a bit hard to know as there's not a lot of info with the films. The movies all run for various lengths of time, from five minutes up to 25, and each one is shown with sets of images from other movies that you might also like, so the pages do look a bit over populated with pictures.

The model index holds 245 guys and each one has a large sample image but no details, just links to his videos or galleries, and again these pages have lots of images from other scenes so it can be a bit confusing. My other issue was with the very top banner with its revolving image. It's fine to start with but after a while it gets in the way. You click a link and the banner dominates your screen (especially on a laptop) so you never know if the page has changed beneath it. The site though is compatible with mobile devices and there is a choice of languages to view it in.

Bottom Line:
Totally brilliant for horny twinks from Eastern Europe in solo, action and piss fetish scenes, a bit overboard with images, not a lot of information, some interactive options and really, really good value.

DRM free - Yes
Downloadable
HD - Yes
VISIT Hammerboys Tv NOW!
There are 0 comments on this review
Login here to add your own comment:
VISIT Hammerboys Tv NOW!