Str8cam Jeff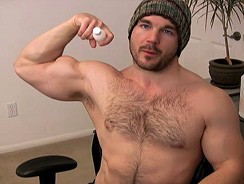 JUB Site Rating:
0 total vote





Str8cam Jeff's Billing & Pricing
Str8cam Jeff's primary billing processor: Ccbill
$16.95 1 month Recurring
$19.95 1 month NON recurring
$23.95 2 months Recurring
$29.95 2 months NON Recurring
$32.95 3 months Recurring
$39.95 3 months NON recurring
$41.95 4 months Recurring
$49.95 4 months NON Recurring
$50.95 5 months Recurring
$59.95 5 months NON Recurring
$60.00 6 months Recurring
$69.95 6 months NON recurring
VISIT Str8cam Jeff NOW!
Str8cams has won the CyberSocket Award for Best Amateur Webcam, so my mission is to see why, and to let you know what I found while checking it out.
The first thing that struck me was the look of the site; not what I was expecting at all. It looks rather homemade and put together in an old fashioned way; not stylish at all. And you what? I like that, immediately you start to feel like your somewhere personal and almost homely. You've got a nice intro to make you feel at home too, loads of pics to view and most importantly, an announcement telling you when the next live show is going to be. There are adverts and links to archive shows, and you're told that the shows have been running since 2000, so it looks like this is a solid and stable set up and not going away anytime soon. You've got loads of sign up options to choose from, so it all looks nicely arranged and thought out with you, the member, in mind.
Built into the home page is a list of 'cam guys' from Flirt 4 Free, but on the left is a great long list of clips. This is where straight and married (apparently) Str8cams guy Jeff comes in. He's the str8 guy of the title and it is him we have come in here to see jack off, and do all kinds of other horny stuff. He schedules in one or two live shows per week and you only need to log in at the right time to see him; you can join in with chat while you do so. But if you miss a live show then he makes sure you get the archives to view, so all is not lost. The live shows are schedules in PST so you will, if not I that time zone, need to figure out what time you need to be online.
When I went to check some archives I found that the viewing was by way of a streaming player in a new window, no problems there and the more recent the movie the better the quality of course. There were download options as well, and recently these have been F4v files. Older recordings include WMV, and Real, with some Flash and some qualities down at 320 x 240 if you go way back. But more recently the quality is not an issue, though your connection speed maybe.
What's neat about Jeff is the way he chats and talks to cam, before he starts the action. You get to know him, you get to like him, he replies to questions and emails, and it starts off as a really homely amateur 'from me to you' video. And then it gets hot. This guy isn't exactly a bear, though the older and heavier he gets the more he gets bear-like. Go back to the days when the shows came by date rather than title, like 2004, and he's a muscled, smoothy, hunky younger guy. It's neat to click through the vids and pics and see him develop and grow over the years. And you've got to admire his stamina if nothing else; there are hundreds of recordings here.
And there are also galleries, where you have slides and various sized images to browse, easy navigation and loads of picture sets. There are also daily clips, FAQ pages, links to sites of interest, plenty of adverts for his own lube and other products, a video on demand theatre and everything you might need to keep you entertained (and often spending) while you are waiting for Jeff's next live show.
Bottom Line:
So, is it deserving of awards? Well, I can see why he's been praised; he's consistently horny and able to jack off on camera as often as he wants to. There's a mass of recordings to view and loads of other distractions too. Well worth a visit, more personal than the average live show, and highly recommended.
VISIT Str8cam Jeff NOW!
VISIT Str8cam Jeff NOW!