Man Handled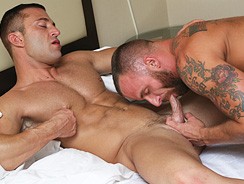 JUB Site Rating:
0 total vote





Man Handled's Billing & Pricing
Man Handled's primary billing processor: Ccbill
$19.95 for 30 days recurring
$29.95 for 30 days non-recurring
$54.95 for 90 days non-recurring
VISIT Man Handled NOW!
It's all about men who are not afraid to play rough and tough at Man Handled. Top, dominant guys who take their men roughly from behind in hardcore fuck and face-fuck scenes that you won't find anywhere else. There are good sign up offers, a well designed tour and some pretty hot looking guys to tempt you inside.
And, once you are inside, you find a members' are that is simple to use, also well designed and that lets you concentrate on the guys and the action. And it is the guys that make the site. They are tough, hunky, tattooed and masculine men, both tops and bottoms, they sometimes fuck in suits, they wear ties, go in for threesomes and fulfil our older man, hard-man, office boss style fantasies in well made scenes.
There are 18 such scenes at the moment dating back to the fairly recent start of the site, September 2011. Each scene is presented in the same way. You have a main page on which sits the video, then tabs for a detailed description of the scene and guys, and a set of photos. You are able to stream the movies at 640 x 480 in size, and you can also download in various formats too. The WMV and Quicktime versions come in large and medium quality choices and there is an iPod, iPhone, 3G's format H.264 version to take as well. So that's a nice and generous offering of ways to collect the exclusive scenes. They run for around 20 minutes each, they streamed just fine with no start and stop on my mid-range connection, and they went full screen with only very slight pixilation.
There were some scenes that were more vanilla than others; some where you simply had two guys making out, all be it passionately. But in most you've got an element of aggression, and that's what gives these scene the edge. The hard and fast, urgent action that comes after some set up and dialogue. Again there were scenes that started straight off the bat with guys making out, and others where a story was set up. Two guys chatted or acted out a scenario before things really stared to happen; and that makes for variety.
Looking at the images I found good photography with focused images in thumbnail pages that clicked up to around 490 x 740 in size. On screen they came with simple navigation buttons and there were also high resolution zip file downloads where images were 800 x 1200 in size. They take you through the same action as the videos and the quality remains good.
The other part of the members' area is the model index, and you find the link at the top, in the menu. There were 24 guys when I called in to the site and each one is shown with a good sized body pic which shows of how muscular or butch he is; many also show cock or action shots. Click a guy to get to his page and you find links to his videos plus some basic stats. If you want to now more then you can read the 'About' page with each scene and listen to any start-ups, intros or dialogue that here might be.
Bottom Line
It would have been nice to find some interactivity at the site, some rates, comments or a favourites area perhaps, but Man Handled is more about bringing you hard and fast guys in well made, exclusive scenes than it is about getting involved. Updates come every week without fail, quality remains good, the guys are perfect and you've got a special gem of a site here that will satisfy your craving for masculine men in passionate scenes.
VISIT Man Handled NOW!
VISIT Man Handled NOW!