Naked Marine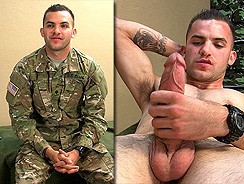 JUB Site Rating:
0 total vote





Naked Marine's Billing & Pricing
Naked Marine's primary billing processor: Paycom
$7.95 for a three day trial, recurring at:
$24.95 per month, recurring
$99.95 for six months, non-recurring
VISIT Naked Marine NOW!
When you click to the join page at Naked Marine you learn that your access also gets you enlisted into All-American Heroes, so you're getting a two for one offer here. Both sites are accessible with one set of passwords, and both offer something different. On one you've got all the horny fun of real marines and army guys, and on the other you're looking at firemen, cops and more military guys. In both sites you are looking at original content, videos and galleries with some content in high definition.
Of the two sites I found Naked Marine the one with the better design, it simply looked more professional, though the Heroes site works fine and there are no great complaints about it. You start (at Naked Marine) with a home page which is similar to the tour and which shows you the latest scenes. There's a lot of text here too so you get background and information about what's been added. Links to your bonus site and other places outride the site are at the top, and your in-site menu is to the left. Over there you also see the categories list and a search box; you can also access the scenes via the numbered index pages at the bottom of the home page.
Using this method I found 20 scenes. Wondering if perhaps there were more I tried the categories and found that these work like post categories in a blog; you click one and there is a text list of post titles, click one of those for the full post that includes the videos and images.
When it comes to viewing a movie you find that they are presented in what the site calls 'HD' in Flash, and that the screen is around 950 x 540 in size. You can download in WMV and Quicktime with resolutions at 1,000 kbps @ 640 x 360. Checking the streams I found the visual quality to be fine, as was the sound, and full screen didn't present me with any problems. You only have the one choice of resolution so if you're slowly connected you will probably get some start and stop and a download might be the best way to go.
You've got movies in two main action sets here: solo jerk offs and action-fucking scenes. You've got guys wearing the uniforms you'd expect them to wear if they were real soldiers, and they have the right build, appearance and eve haircuts to convince. You need to listen to the short interviews that take place to convince yourself how genuine these guys are, and you tend to get some chat at the start of most, if not all, scenes, and that really helps set things up. The text descriptions also help you get to know the guys slightly, though they tend to be more about what you are going to see, rather than who you are watching.
Each of these scenes, that run for 15 to 25 minutes, come with images beneath them on their viewing pages. These are sharp and clear and open in new windows where they are around 800 x 450 in size. You will need to open them one at a time.
And as for updates; well, it looks like things are happening on a weekly basis, and have been, more or less, since the site started seven months ago. Over at the bonus site I found much more content so don't think you get stinted here, you may not find that many marines as yet, but there are plenty of bonus military and other guys. And as for recommendation? Well, the bottom line for me is that the site is simple in terms of viewing options and content, it's easy enough to use, the quality is fine, it's small but seems to be growing and your added value comes from the bonus site, which really boosts content numbers as it contains similar material. So, for military guys in exclusive scenes, yes, certainly worth a look.
VISIT Naked Marine NOW!
VISIT Naked Marine NOW!