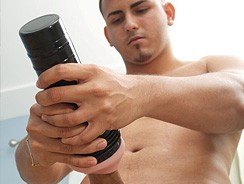 JUB Site Rating:





0 total vote





Updated: 2013-03-11
Primary Categories: Hardcore
Extra Big Dicks's Billing & Pricing
Extra Big Dicks's primary billing processor:
Ccbill
Extra Big Dicks's optional billing processor(s):
Netbilling, Paycom
$29.95 per month
$69.95 for 3 months
VISIT Extra Big Dicks NOW!
I know what you are thinking: 'are these real? Or are they morphed?' Well, you can morph a photo but you've got to be pretty clever and dedicated to go through a digital movie frame by frame and morph a video. So, yes, these dicks are real. And they are real big - get your wide screen, extra large monitor out and plug it in, it's going to be an eye watering night.

Here is one scene that is typical of the 215+ movies that you can expect to find. First of all you've got a sample shot or two, a choice to Flash stream in two sizes (where the player lets you jump around the action), or downloads in three WMV formats up to a whacking 1280 x 720 @ 5.12Mbs in size. Add in the Real Player versions and there should be something there to suit everyone. And, with each movie you've got the chance to hear the interviews or jump straight to the galleries too. The one I am sampling started straight off, with the guys kissing, one hunky, slightly older tattooed guy and one youthful and smooth, cute and sexy guy. The action unfolds: kissing and rubbing up through jeans, then cocks are out. Older guy is the bigger boy here and younger guy is kind of in awe at the size of the thing, we're talking at least eight inches per throw with some too big to be measured on your standard sized rule.

So, big and thick cock sucking ensues in a natural way, and this section runs for about 10 minutes, half of the movie. Then the real eye-watering section comes in with the anal... ouch. Yup, big dicks in tight holes it sure is. During the next ten minutes the guys try out various positions, the camera moves around so you miss nothing, and we end with a couple of steamy cum shots. The quality is good, even on the lower resolution files and the big dicks do not let you down.

The quality of the photo galleries is good too, with pics up at 667 x 1000 in size, easy navigation and jump-to lists; these galleries take you through the action and have many individual images in each set.

Just by way of a double check, I went to the very first episode, listed on page four of the massive index pages of the archive. As you might expect for content that stared the site some years back, there are less high resolution videos here and some different players in use. There were lots of solos back then too, but one thing remains clear: the site started with guys who have Extra Big Dicks and it has carried on in that vein ever since. But apart from sharing some impressive lengths, the guys are also varied in looks and builds, ethnicity and age, so you don't find the movies becoming repetitive or boring. This isn't like some other sites I've seen where there is just the one well hung guy; there are hundreds of them here.

So, add on your bonus sites, and the feeds, and the regular updates and the good quality of everything, the easy navigation and choice of players, and you've not only got big dicks here but you've got big value too.

Bottom Line:
Only the most experienced amongst us should try sitting on some of these lengths, they really are huge at times. And the guys they are hanging from are all sexy to a man, there is no morphing, it's all real. You've got a good collection of exclusives, which is being added to regularly, and you've got good quality with loads of viewing choices. It's hard to find anything negative to say about this site.
VISIT Extra Big Dicks NOW!
There are 1 comments on this review
is there anyway to get directors cuts or elongated versions of the movies on extra big dicks?

Reply
Login here to add your own comment:
VISIT Extra Big Dicks NOW!