Authentic Footballers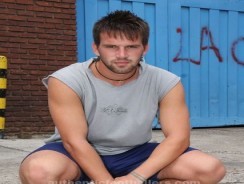 JUB Site Rating:
0 total vote





Authentic Footballers's Billing & Pricing
Authentic Footballers's primary billing processor: Verotel
$24.95 for 30 days Renews at $24.95 every 30 days
Option 2
$29.95 30 days One-time-only charge
900 Phone Billing
$34.95 30 days One-time-only charge
VISIT Authentic Footballers NOW!
Here is something unique: real South American footballers who strip and jerk off in front of a camera. I don't know how you can be sure that they are all real players, or were at some point, but there are certainly enough images on the tour to make it clear this is a footballer fetish site. And the tour does show you evidence of some of the guys appearing in newspapers, playing in matches and dressed in kit so let's go with it.
In the members' area you'll find one long page listing all the guys who appear on Authentic Footballers. There were eighty-eight when I was there, that's enough for eight teams and plenty to keep you busy as you browse around. The guys are all Latino of course and they are all horny in their own way; some are young and smooth, others are older
(up to 28 years)
and most of them look like the average kind of guy you'd expect to see playing in a match. They're fit and look good both in and out of their kit. Each guy has a short write up beside his photo and to see exactly what he has done for the site you simply click his image.
This takes you to the guy's own page and this is neatly laid out with a couple of larger images and a list of content that he features in. You get images and videos here and these are arranged by content. That is you have categories like: Playing and being interviewed, getting and being naked, wanking, showering and dressing and occasionally you'll get a bonus too, like pics and vids of the guy peeing. The image galleries are in the standard format with thumbnails that enlarge to bigger images with navigation buttons and you'll find it much more entertaining to start viewing from the top of the list - usually the guy playing football - and then work down; this way you get to follow him from field to strip to wank to shower and so on.
The videos I saw were kind of weird. Basically the guy sits on a bed, looking a bit embarrassed or even bored, and jerks himself off. You can hear some porn flick playing in the background and a camera or two clicking and flashing away. It's kind of erotic I guess but a bit flat. Then again these guys are more used to kicking balls than unloading them for a porn shoot. You might find some of the other vids more thrilling than the jerk off ones: like two guys playing football together naked, or showering. What you won't see is any intimate action between the men though, even when there are two guys wanking or showering together they don't touch each other.
Bottom Line:
Although this site is, as far as I know, unique because it only deals with Latin American footballers it is also kind of flat. If you have a thing for guys in football kit, real players and solo jack off vids then come on in, you'll love it. There is plenty of material to be seen and regular updates to catch up on but if you're into harder sex stuff then this probably isn't for you. Bear in mind though that the site is about sexy looking, straight and real life football players and it is guys like that who make up the cast, there are no professional porn models here and the performances you get from the men is amateur. Amateur and real, so it's not glossed up and false and that's why it comes across as being 'flat' but in a way that's good, because you know it is showing you authentic footballers, just like its name suggests.
VISIT Authentic Footballers NOW!
VISIT Authentic Footballers NOW!