Boys Pee Pee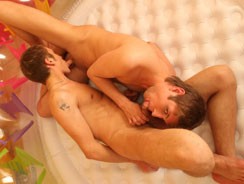 JUB Site Rating:
0 total vote





Boys Pee Pee's Billing & Pricing
Boys Pee Pee's primary billing processor: In House
$4.95 for a three day trial recurring
$29.95 for 30 days recurring
$59.95 for 90 days, non-recurring
VISIT Boys Pee Pee NOW!


Let's take that apart a little and look at the details. The first video here is dated 1st September 2010, there then follows some daily updates for 12 days and then we jump forward to January 2011, since when there have only been six updates. So I am not 100% sure what's going on here, but I can tell you that the home page announces that there is another update due in a week, and another one week after that.

But meanwhile, whether the updates happen or not (and I am pretty sure that they will) you have a set of 18 movies and galleries that are actually pretty stunning. The boys are what make these movies really work, not so much the watersports action as that tends to be rather limited. But these guys are youthful and fresh, new and, as far as I know, exclusive to the company behind the site. This company, I think based in Estonia, have a few other sites out now and the boys also appear in them, (Under Construction Boys for example), but otherwise, I've never seen them before.

And some of them are so sweet that I found myself downloading every single video, which was actually very easy to do. You simply browse through the index pages where you read descriptions and see sample shots, and then click to the view page. Here you get a large and smaller Flash screen to stream in, and two choices of WMV for downloads. You can rate scenes, add them to your favourites area and also comment, and the whole site is really well designed. It is simple to use and looks neat and tidy, all the buttons work and there were no technical problems at all.

Even on the lower stream and at full size the scenes I got hooked on were a good quality visually, though slightly stretched, and the sound was fine too. You can jump through the movies, many of which are set in a paddling pool... Well, it may look a bit too staged but at least the pee stays with the boys as they splash around in it and get down to the hardcore bareback either before or after the pee session. You might think that these videos are more hardcore than they are watersports, and you'd be right really. There is some piss action, and the boys do really well in turning us on in the fetish moments, but I'd say there was more bareback, oral and anal, than there was pissing. Not complaining; just pointing out.

Quickly checking the galleries, you find large and good quality images that open individually and that are easy to navigate. There are also slideshows with them that have six speeds and six choices of image size, and you can download zip files too. You've got a couple of pages for help and support and an area where members can show off their own photos, though this is currently unused. Why not be the first to use the 'click to submit' button, send in your own pics and get hose balls rolling?

Bottom Line:
Ok, so it is small and you can't really call it that new anymore, and there is no explanation about the odd update rate, but there is hope for Boys Pee Pee. It could well turn out to be a top twink/watersports/bareback site, it certainly looks good and works well. As well as the good interactive options and a neat design, it's got some totally lovable, smooth boys, twinks and teens to enjoy and, well, a certain amount of piss action too.
VISIT Boys Pee Pee NOW!
VISIT Boys Pee Pee NOW!