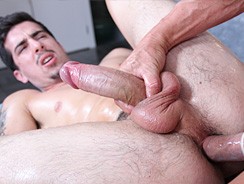 JUB Site Rating:





1 total vote





Updated: 2012-10-01
Gay Room's Billing & Pricing
Gay Room's primary billing processor:
In House
$1.00 for a one day trial
$24.95 per month recurring
$59.96 for three months
$95.40 for 12 months
VISIT Gay Room NOW!
When you join Gay Room you have a choice: to view the members' area in its old, classic style, or to see the new-look version. I went for the new-look, though I'm pretty sure both areas have the same content.

There are eight sites included in the 'room' and you can either browse them individually or search through the updates pages starting at the home page and working back. Either way you find hot guys, variety, good porn and seven updates each week. You are also able to search the sites by category or by model, so if you know a guy's name you can look to see if he appears here, and these lists are all found in a left had menu which compliments the main top one. There are also search options across the top of the pages so you should have no trouble finding what you want to see when you log in.

So, I found a scene (or several) and here's what happens on the viewing page: You start off with choices, to see a trailer, the HD video, screen caps or HQ pictures, and you are presented with a large viewing screen. Beneath this are download options of Mp4, WMV and Mpg, and then a short description. I have to say that if you are still on a slow connection then you might get frustrated with the newer and higher quality content that you find here. The stream was big and the file sizes for downloading were also big, around 700 MBs, and they were set to take a long time on my mid-range connection. The stream was also a bit 'start and stop' as it played and I didn't see options for smaller versions. But the quality of what I did get was outstanding.

Movies came with a set of screen caps and a set of high quality images. These clicked up to good sizes, such as 850 x 567 which was fine for the screen and the quality was very good too. Numbers of images varied per gallery but you never go short of some pics to collect, navigation is easy and there are zip file downloads.

You never go sort of anything in the Gay Room actually, not when you have content from eight top and exclusive sites to view. In case you were wondering the sites you have are: Bath House Bait, for group scenes, Massage Bait for oily rub-downs that lead to full on hardcore, Office Cock for your bang the boss fantasies, Gay Creeps which must be one of, if not the, original 'creep' site (a, usually straight, guy is asleep when his gay housemate starts to take advantage of him and by the time he wakes up he is so horny he lets his mate fuck him), Damn That's Big takes the theme of over-sized cocks and hardcore sex and Gay Violations gives you something of a change. This is another unique site where guys are 'attacked' in public, or hazed in the street, violated by having their pants pulled down, that kind of fun thing. It's very silly and makes for a great change.

But whatever site you start with you will always find the same attention to detail, interactive options like rates and favourites, and you will also find the same quality of moviemaking. Gay Room is getting bigger every day, more or less, and although it probably isn't the biggest gay site on the net, as the tour claims, it's certainly heading that way.

Bottom Line:
Gay Room is perfect for all kinds of reasons: Hardcore that is well made, a good style, easy to navigate, good quality and featuring some of the hottest guys working today. It's also exclusives and your membership here gets you into eight sites with HD formats and great quality all-round.
VISIT Gay Room NOW!
There are 0 comments on this review
Login here to add your own comment:
VISIT Gay Room NOW!