Broke Latino Guys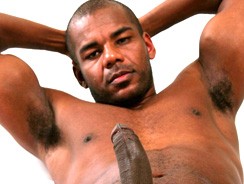 JUB Site Rating:
0 total vote





Broke Latino Guys's Billing & Pricing
Broke Latino Guys's primary billing processor: In House
$29.95 for 30 days recurring
$49.95 for 30 days non-recurring
$69.95 for three months
VISIT Broke Latino Guys NOW!
Obviously we are looking at sexy Latino guys here, the title kind of makes that clear. And the tour also makes it clear that these are amateur guys, so lots of tanned flesh you won't have seen before. As for the 'doing it for money' idea, well these guys are getting their kit off, stroking their Latin meat and humping each other senseless on the sofa in return for cash; but it's not one of those sites where there are big build-ups, the director tempting the boys with cash and generally bribing them to get naked. It's a bit more straightforward than that. You do get to know the models through the start of each movie, but you don't get someone chattering away while they get down and dirty.
So, amateur Latin guys, weekly updates, exclusive content and bonuses are what make up the bulk of your membership. At the heart of it all are the movies, I mean, that's what we really want to see isn't it? I've just got back from checking a couple out and found that there were chats at the start, introductions to the guys and a kind of settling in, 'getting to know you' period. Unfortunately for me this was in Spanish so I didn't understand it, but you'll get the gist. And you can always skip this clip and go to the next one as the movies come in clips. When you start to stream these clips you find images to the right to click in order to get to the next three minute section. The Flash streaming is a good quality and you've also got download options for WMV, Mpeg and mobile phones.
You are going to find a selection of sexy younger guys here, all rather horny looking if you ask me, and all very well put together in the areas where it matters. There is a mix of solos and couples in action scenes, both of which play out really nicely and end with white jizz on tanned bodies, all cocks are large and dark, nuts are full and bursting, and some of these boys have the cutest faces I've seen in a long while.
(Check out Kenny. Yum.)

There were 73 scenes when I was in the members' area starting back in July 2010 and coming right up to date. This makes me think that the update promise of one new scene each week has been well and truly kept to. But there is a slight 'but' with that content count. There were actually 30 videos and the rest of the sample pics led to photo-sets. Recently it's been all video uploads though, and these come with screen cap galleries. The images here are ok, they're not the best ever and some are slightly distorted, so you probably won't want to collect them, but rather use them as a guide to the action.
But talking of photos: the sets you have contain good numbers of images each and individual images click up to good sizes, around 1500 x 1075, where they remain clear and sharp. They are easy to browse through too and well worth collecting.
Add to this hot Latino, first-time content your full collection of bonus sites, including three more Latino themed ones and the full collection of content under your Latino Gay Pass area. Add in your good search and sort options, some interactive elements, model index and stories, and you're looking at a very nifty, great value set of Latin exclusives.
Bottom Line:
Newbies to the Latino porn scene, solos and action movies that are exclusive, good quality productions, photos and loads of extras all go to make up a fresh and horny site that also gives you excellent value.
VISIT Broke Latino Guys NOW!
VISIT Broke Latino Guys NOW!