Naked Frat House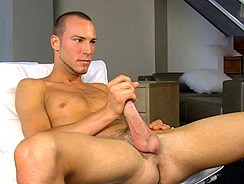 JUB Site Rating:
0 total vote





Naked Frat House's Billing & Pricing
Naked Frat House's primary billing processor: In House
$7.95 for a trial
$29.95 for one month recurring at $18.95
$99.99 for one year non-recurring
VISIT Naked Frat House NOW!
This is something of an enigma. Naked Frat House offers us live cams in a frat house in southern California with live shows every week. It offers us real college guys jacking off solo or getting together for exclusive movies. It also offers a trial membership and a recurring monthly one where the price reduces after the first month. It tells us that it has won three industry awards as well and it looks like a site I've seen before that ran really well.
But, when I get inside, I find that I can't stream the cameras no matter what I do, and that there are no upload dates put with the videos, and these videos make up the bulk of the site. There are 124 of them and they stream only, and in only one choice of player and resolution. It was a good one, certainly for the video that was on the home page as, I assume, the most recent one; full screen was fine and the buffering was quick enough. Head back to page 20 and, I assume, the first videos and the quality is not so wonderful, though viewing is still decent enough, it's just a bit grainy at full screen.
Each of these movies comes with a lengthy description by way of an intro, and they are a mix of solo, filmed live it looks like, and action ones. The filming style is hand held and pretty easy going, with guys chatting or making up dialogue as they go along, and you get in close in all the right moments; the horny parts come when the guys start jacking off together or going further, and there are some sexy looking college jocks (and some older guys, mature students perhaps?) to get off with, so no complaints there.
It was when I went to the live shows that I got a bit confused. The schedule page told me it had been updated in June 2011, a long time ago now, and yet there were two shows advertised, mind you they were for about two weeks ago so I'd missed them, and there was nothing saying when the next one was on. I clicked to see 'live video shows now' and got to a join page advertising weekly live shows which clearly are not happening. Back in the members' area I tried the Live Shows tab in the menu and came to a page offering me three choices of cams, I assume for the when the live show is running, and there was also chat to enable. The 'more webcams' link here led me off to Naked Frat Cams where I was given $12.00 free credits and where there was some free flirting to be done. But you will need to sign up and pay to get more involved.
So, back at the videos and I checked out the photos that come with the movies. These were good quality and decent sizes, but they did open in a pop-up window one by one so navigation was a bit tiresome. There are zip file downloads to take though and you can also make comments on what you see. There are also search and sort options and a category list to look out for among the adverts for other sites in the left column. Checking some of these results, and the comments, I found that there has been activity on the site quite recently, so I am assuming it is still updating and that more live shows will be happening.
Bottom Line:
A bit more information about the live show schedule and updates, and some download options, choices of streams, easier gallery viewing and more interactive options would really improve Naked Frat House. What's here is fine, I just found it all a bit confusing.
VISIT Naked Frat House NOW!
VISIT Naked Frat House NOW!