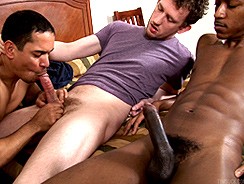 JUB Site Rating:





0 total vote





Updated: 2014-05-07
Primary Categories: Bareback
Tim Suck's Billing & Pricing
Tim Suck's primary billing processor:
Dhd Media
$3.95 for a two day trial
$19.95 for one month recurring
$29.95 for one month non-recurring
VISIT Tim Suck NOW!
You know, you can take a TIM pass for only a little more and get access to more Treasure Island Media (TIM) sites in one go, but if you want to test the waters and you fancy a bit of sexy BJ action, then you can try out TIM Suck first. Here you will get the same high quality movies and galleries, the same kind of design and interactive site, the same access to the community area and a really good feel for how the other sites all run. Then, when you are truly hooked, you can switch your membership and get a full pass if you want to.

You log in and find the latest movies shown on the home page, as is standard on sites like this. These come with upload dates so you can also keep an eye on how often you get new scenes added. There is also an area to show you what is coming next and it looks like updates happen around once every week or so here. Click through the main menu and you will come to the Exclusive Scenes area first.

This is where you find the main TIM Suck content and there were 107 scenes dating from 2009 up to the present day. With recent movies should find HD streams as well as a more standard rate, and so you should be able to choose according to how fast your connection is and what you can manage. Sadly you will only be able to stream. TIM makes videos for sale and so you can't download from here, though you do get to access some of the for sale movies in another area of the site. First though, savour some of these high quality, well-filmed, hardcore suck scenes and see what you think.

You've got a nice mix of models with hairy hunks and smooth amateurs, straight looking guys and all kinds of cocks, both cut and uncut black and white. It's a nicely varied collection of suck scenes, with the BJ action being the centre of it all and movies running for a decent length of time each. Check out the photos and you find 107 sets of images accompanying the videos, with links back to the scene if you want to check images first, to see what happens in each one, and then go and watch the movie. These are simple galleries with images going up to 720 x 1,280 when at full size though starting off slightly scaled down to fit the page. Galleries hold various numbers each and again they concentrate on the suck-action for you.

In your Video Vault you find a set of 15 full length DVDs from Treasure Island Media. These cover all kinds of hot hardcore with the emphasis on blow jobs, but also including some breeder and raw sex, again with hunky guys and a nice mix of amateur looking models. You can expect a fair amount of cum play and facials at this site too.

As with the main videos, these DVDs can only be streamed and here are no divisions between scenes. With DVDs running for up to 120 minutes you are in for a long viewing, but you can jump through them using the slider. There's not a lot of info on the site either, and no model index, so you never really find out much about anyone. You can comment and rate the scenes but for more interactive things you have to click to the TIM community page from your main menu. Here you have the blog, news, interviews and the forums to use.

Bottom Line:
Good quality, mainly BJ action, updates, streams only though, not a lot of info, but a nice lot of content and extras, and all set at a very nice price that is easy to swallow.



Tags:
Amateur Blow Jobs, Cum, Hardcore, Bareback, Cock Worship, Suck, Exclusive, Facials, Cum-play, gay bjs, cum swallowing

High Definition Yes
DRM Free Porn No (stream only)
Downloadable No
Content Format Videos, galleries, extra DVDs
Live Shows No
Bonus Content 15 DVDs, TIM Community area
Multiple Site Hub No
Content Updated Weekly
Safe Sex Notice:
This gallery contains images of unsafe sex practices, also known as barebacking. Engaging in sexual practices without the use of a condom is a risky and unnecessary behavior. There are a lot of studios including the one listed on this page that film bareback or have bareback scenes in their content libraries. The images presented below should only be used for fantasy and you should not deceive yourself into thinking that "everyone is doing it." Further, you should not assume that just because you see photos or film content of barebacking that sexually transmitted diseases have been miraculously cured. HIV and other sexually transmitted diseases are very real and potentially lethal. Please practice safe sex in your own life and educate yourself regarding the dangers of not wearing a condom before having sexual encounters. Visit AMFAR for more information about safer sex.
VISIT Tim Suck NOW!
There are 0 comments on this review
Login here to add your own comment:
VISIT Tim Suck NOW!