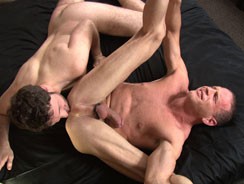 0 total vote





Updated: 2010-08-28
Primary Categories: Bareback
Currently No Videos
Tim Fuck's Billing & Pricing
Tim Fuck's primary billing processor:
In House
$39.95 for one month recurring
$59.95 for two months recurring
$79.95 for three months recurring
$144.95 for six months non-recurring
VISIT Tim Fuck NOW!
Treasure Island Media (TIM) and Paul Moris present Tim Fuck, a hot, cut, bareback site that promises us great things. From the tour design to the scenes it's all top quality entertainment on a very raunchy theme.

By the time you've looked at the tour for a few minutes you will need no more convincing that this is a 100% bareback site; the trailers don't leave you alone and are right 'in your face.' And, once you log in you find that the action is more or less non-stop. There are updates and images showing you what's new in the video and gallery departments, and you've got a neat top menu to start your browsing with.

My eye was drawn immediately to 'Fuck Roulette' - not the kind of thing I'd seen in a top menu before and I was intrigued. This turned out to be a very neat and free addition to the site, an extra if you like. Basically it's a chat and cam area where members can hook up. You simply click 'start' to get the ball rolling, and where it stops nobody knows until you are randomly hooked up with another horny member. It also has other fun features attached to it such as blogs, and is a great distraction.

And it distracted me... where was I? Oh yes, I was going to look at the videos back at Tim Fuck. Clicking the Exclusive Scenes tab I found 60 scenes and they were all sortable by date or title. I just happened to fall on a random, four guys in one scene episode to see what the viewing options were like. They were simple and a bit basic with three qualities of Flash streaming. These will suit most connections no doubt but there was no downloading to be had here. But there were vary hot and horny bareback scenes, with hunky guys, older men, cut men of course and some hairy bears, leather guys and other studs. The language, including some subtitles, was hard and raw, just like the fucking and the guys. This is a site that doesn't mess around with niceties. As soon as the action starts you are into hard men saying and doing hard things.

Running along my quality checklist I was able to tick off good camerawork, presentation, sound, visuals and guys' performances, so no worries there. And looking at variety I was pleased to see duos and group scenes, and a wide variety of models, so that was fine too.

Checking the galleries for you (there is one with each scene), I found small but decent sized photo sets that contained images which would open up to a good size for my monitor, and which came with slideshows, but with no downloading. They are a good guide to what's in each scene if nothing else.

And then I came to the DVD Library where I found 32 scenes from T.I.M.'s entire DVD fuck-catalogue. These come with streaming options like the main scenes at TIM Fuck, and you can also click the link to go to buy the published DVD. All nice and simple and a decent streaming extra. In addition to this page there were also a further 56 photo sets from T.I.M.'s library with even more hot images to view in slideshows.

Bottom Line:
I liked this site a lot, though I wasn't able to download and keep any content, it's protected because it's also for sale in stores I guess. It is hard and raw, and hot and just as promised, it's got a nice design and there are good quality movies and pics. The additional Roulette area is fab, and almost overshadows the main site itself. You're going to have to stay as a member to enjoy this site, but it's going to be worth it.
Safe Sex Notice:
This gallery contains images of unsafe sex practices, also known as barebacking. Engaging in sexual practices without the use of a condom is a risky and unnecessary behavior. There are a lot of studios including the one listed on this page that film bareback or have bareback scenes in their content libraries. The images presented below should only be used for fantasy and you should not deceive yourself into thinking that "everyone is doing it." Further, you should not assume that just because you see photos or film content of barebacking that sexually transmitted diseases have been miraculously cured. HIV and other sexually transmitted diseases are very real and potentially lethal. Please practice safe sex in your own life and educate yourself regarding the dangers of not wearing a condom before having sexual encounters. Visit AMFAR for more information about safer sex.
VISIT Tim Fuck NOW!
There are 0 comments on this review
Login here to add your own comment:
VISIT Tim Fuck NOW!