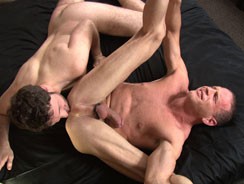 JUB Site Rating:





0 total vote





Updated: 2014-04-10
Primary Categories: Bareback
Tim Fuck's Billing & Pricing
Tim Fuck's primary billing processor:
In House
$3.95 for two days recurring
$24.95 for one month, recurring
$34.95 for three months
VISIT Tim Fuck NOW!
Tim Fuck is part of the Treasure Island Media's set up and that means it comes with its own exclusive videos, hot guys, hard action, good quality streams, images and access into the TIM community site, which has other hot stuff to see, and a blog. But their fuck site is all about bareback action between amateur and hard-working semi-professional guys who appear in full length scenes.

So far on the site you will find 146 scenes, 30 other Treasure Island DVDs and 128 galleries to view. The exclusive scenes are a mix of hardcore duo action and groups, there are tough and muscled guys in jocks, there are more amateur and ordinary looking guys stripped down, there's plenty of ass banging action and blow jobs, cum play and creampies, so you had better be ready for some hard hitting hardcore. Each scene comes with a description and a stream. That is the one drawback of this site; it is stream only and there is no downloading to be had. You must stay a member in order to view the movies.

But they are good quality and well filmed. If you are still on a slow connection you might have some buffer issues and a bit of a wait, though recent scenes had an HD and a 'HD off' option and with the stream running at the standard rate it was pretty smooth and still fine to view at full screen. The scenes come with their upload dates and if you head back to the start of the fun, currently found on page 10 of the index pages and featuring Jesse O'Toole and Dawson in a motel room, cum on the ass, scene, you find one choice of stream dating back to 2008. Still good filming quality mind you and OK at full screen.

In the photos area the 128 galleries also take you through the same kind of action, often through the same scenes, and there are links across to the videos from each gallery's page. The main images are centre of your screen with a slider of thumbnails beneath, and images were at 720 x 1,280 in size, though scaled down to fit the page neatly at first. There was no info with them, apart from an upload date and no interactive options. These are simple galleries that are easy to navigate and if you want to collect the images you must do so one at a time.

In the Video Vault area of the site you find 30 TIM releases to watch online and these are full DVDs, I mean at over 160 minutes in length, or thereabouts. There are no parts or segments but you can jump through the videos using the time slider, and you are going to find the same up-close, bareback and hardcore as you find the main videos on your site, though much more of it.

As you venture around this hotbed of hardcore you find that you can comment on what you see, in the video area at least, and you can rate them. Any other 'community' or interactive features have to be found over in your Community Area. Clicking this link opens another tab and takes you to the TIM interactive area where you have forums, the blog, interviews and other exclusive goodies. This little extra adds a nice dimension to what is already a good set-up.

Bottom Line:
What's good about TIM Fuck is that it filters out all the hot Treasure Island bareback scenes and gives them to you in one place. It updates, it has galleries and you can access the TIM community area. You can only stream the content and must stay as a member to view it, but at this price you can afford it.


Tags:
Bareback, Raw, Breeding, Hardcore, DVDs, Exclusive, Treasure Island Media

High Definition Yes
DRM Free Porn No
Downloadable No
Content Format Videos, Photos, extra DVDs
Live Shows No
Bonus Content TIM Community & DVDs
Multiple Site Hub No
Content Updated Weekly
Safe Sex Notice:
This gallery contains images of unsafe sex practices, also known as barebacking. Engaging in sexual practices without the use of a condom is a risky and unnecessary behavior. There are a lot of studios including the one listed on this page that film bareback or have bareback scenes in their content libraries. The images presented below should only be used for fantasy and you should not deceive yourself into thinking that "everyone is doing it." Further, you should not assume that just because you see photos or film content of barebacking that sexually transmitted diseases have been miraculously cured. HIV and other sexually transmitted diseases are very real and potentially lethal. Please practice safe sex in your own life and educate yourself regarding the dangers of not wearing a condom before having sexual encounters. Visit AMFAR for more information about safer sex.
VISIT Tim Fuck NOW!
There are 0 comments on this review
Login here to add your own comment:
VISIT Tim Fuck NOW!