Jet Wang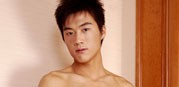 JUB Site Rating:
0 total vote





Jet Wang's Billing & Pricing
Jet Wang's primary billing processor: Ccbill
Jet Wang's optional billing processor(s): Paycom
$12.95 for 3 Day Trial
$29.95 for 30 Days Recurring
$79.95 for 90 Days (no rebill)
$99.95 For 6 Months - 60% OFF! (No Rebill)
VISIT Jet Wang NOW!
Asian boys are the stars of this snazzy site. I say 'snazzy' because there is a really neat interface that runs the members' area. More about that later. If you're on the hunt for some young and smooth, cute and cuddly but very sleazy Asian lads then Jetwang should be your next port of call. You've got hot movies in here that run in Flash streams, and you've also got galleries. Your membership lets you into the feed content from other hot sites from the same company, there is a blog and updates are happening regularly.
So, that snazzy interface... These days the design of a site is a good indication of how well it is maintained, and a poorly maintained site is often one that doesn't care about its customers. Jetwang is simple to use, neatly designed and has some neat interactive features that makes viewing the content easy, and in a way, fun. For example, when you are streaming one of the spunky movies, you have a picture slider beneath the main viewing screen. This set of thumbnails, with a time bar running along it, lets you jump through the movie. Ok, so many players let you do this, but this one lets you see what part of the movie you are jumping to. It also has the more standard volume and full screen options. And the neat thing there is that, when you do go full screen, not only does the image stay good, but the slide-bar stays with you.
And here's another one: in the galleries you have the same kind of thing. You get a good sized main image which changes in a Flash slideshow, and a bar of thumbnails beneath so you can jump through. You are also able to stop, pause and go full screen.
But, just because a site runs on Flash doesn't mean that what you get is going to be top quality. The movies here, that I saw, were streaming in at 256k, which doesn't sound very big by today's standards. But they were good quality; well filmed, atmospheric and they did survive the full screen test well. The fact that they are 'low'
(though they don't look it)
means that they buffer nice and fast, and when you jump around there is no pausing. You've got 132 of these movies at the moment, and 45 galleries with loads of images each. And they all feature either solo guys or two Asian boys in action shoots. There is a mix of hardcore, oral, anal and softer-core, if there is such a thing, with shower scenes, wanks and kissing moments.
Members are able to get mildly interactive here with rates and a favorites area, there is also a blog to read, and then your bonus content. I checked into one of these four bonus areas and found the entire content from that site, which was around 700 scenes, so if you're after value for money and some extra, general and mixed gay porn, then you don't need to search any further. Oh, and these scenes all work in the same way as those in Jetwang - that nifty slider and very fast streaming.
Bottom Line:
I was impressed with the details here, the streaming player and the gallery navigation. I was also impressed with the way the streams appeared to be low quality but were in fact just fine. The bonuses are pretty good too, with masses more general porn to view. But the Asian lads are the main thrust and you've got some totally load blowing scenes here, and galleries, and Jetwang stays on niche. I didn't see downloads, only streams, but as they are so quick and a good quality, and as there are so many movies to see, I can't really complain about that.
VISIT Jet Wang NOW!
VISIT Jet Wang NOW!