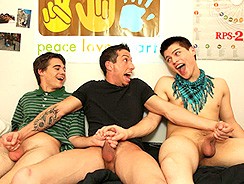 JUB Site Rating:





0 total vote





Updated: 2010-06-30
Dick Dorm's Billing & Pricing
Dick Dorm's primary billing processor:
In House
$4.95 for a three day trial
$24.95 for one month recurring
$49.95 for three months recurring
$89.95 for one year, non-recurring
VISIT Dick Dorm NOW!
We've seen reality sites before, we've seen sites where wild parties are filmed on college campuses, but we've probably not seen the likes of this kind of thing. The kind of thing that happens at Dick Dorm.

What you've got here is a site that's fairly new and that doesn't have a huge collection of movies at the moment, but a site that you're going to get addicted to pretty quickly. The deal is this: real college dudes, roommates and so on, can make their own movies and send them in; if they fit the bill then those guys get ten grand and we get to see the movies. They have to be shot in HD, which they are, and they have to involve gay sex.

When you come to watch any of the movies, my advice is to start at the beginning, choose the standard Flash stream if you're on a slow connection, or the higher one if you can, then put the sound on, sit back and enjoy everything from start to finish. This way you get the full effect. You see, these movies are real. (Or at least, if they are acted then they are acted very convincingly.) The guys are hanging out in their dorm, but they are filming and they know what they've got to do. Or at least one of them does. There's lots of horseplay, messing around, truth or dare stuff and the kind of things that probably do go on behind closed dorm doors. But then things start to get more interesting as the leader, for want of a better word, starts to cajole his mates into the sexy stuff. This might be simply flashing while talking about girls, showing off, dressing up and stripping for a dare, but it leads, eventually to 'if you suck him I'll give you a grand' type persuasion.

And you really do believe that the guys here, most of them, are straight and having fun. The movies have a good atmosphere, it's lively and noisy at times, and yet, as things start to get serious, it becomes erotic and then horny. Some of he guys don't stop at simply flashing, touching or sucking. I just got back from a three-way fuck and suck fest that distracted me from my day for a full half hour.

So the good points about Dick Dorm are the realism of the movies, the horniness of the boys, and the fun yet sexy way the scenes comes across. Sadly you can only stream these online, in full scene with a slider so you can jump through. The quality is excellent considering it's hand held and amateur filming, and you've got a choice of resolutions. There are galleries to go with each move but there are only seven of them at the moment - the site started in April 2010. Each gallery has images at 864 x 486 in size, with slideshows that you can control, and zip file downloads.

As for extras, you are directed to eight well known sites where, as a member of Dick Dorm, you are offered a 'special deal' presumably on sign up.

Bottom Line:
Although Dick Dorm is small, new and you can only view the exclusive movies while online, you get a great return for your money - especially if you are a reality fan, and a fan of straight guys doing gay stuff. Or a fan of college guys, and jocks. We'd love to see more of these movies, we'd like to be able to download them, but we sure like what's here so far.
VISIT Dick Dorm NOW!
There are 3 comments on this review
This is one of the worst sites that I have had the misfortune of paying for. The videos will not play more than 5 seconds without buffering, and I tried letting it buffer for about 5 minutes and the movie totally shut down so that you would have to start over. I have never had problems with streaming on any other site that I've used. I sent three complaints to their 'contact us' link and never heard anything back at all.

That is just the technical side. Now onto content, the videos are about an hour long each with at most 20 minutes of the good stuff. There are very few guys that seem to get any sort of pleasure out of this.

Finally, when I went to cancel, I followed a link on their main page for Customer Support. It told me that I had cancelled my subscription, but surprise,surprise I was billed again the next month. This is my fault. I should know enough to go to the billing companies website to cancel, but them having that link led me to my conclusion.

THIS SITE IS A TOTAL RIP-OFF!!!

Reply
Suffice to say, that as much as I was turned on by the idea of the site, and the attractive models, the site turned me off of paying for porn.



The overall setup was annoying, and seemed like it was done in a computer class.



Many of the models, although attractive, weren't attractive enough to keep my attention through the long unnecessary and often annoying bits. Also, although they went for a bit of realism, the videos ended up being similar to the mess that was Quarantine, to a porn.





I might have lasted longer if not for one thing. I tried to utilize the "slider", yet whenever I did to avoid the build up, it jumped straight to an "upgrade" screen. Regardless of what I done, as soon as I was at a point with sexual action, it went to said screen. It said to press back if I wasn't interested, and I'm not, so I did so. The only way I seen the action was to go to the pictures and play it on a 1-2 second interval.



Suffice to say that I was severely disappointed with the site, and if this is a reflection on how the internet porn industry works, I won't be paying for pornography again.

Reply
TravisFan August 01, 2010 - 16:44:30 (See all My Comments)

Just a friendly caution -



Guys, this is by far the worst and most frustrating site for which I ever signed. I voluntarily handed over a large chunk of cash, to avoid the dreaded "recurring" status - and because there were some really cute (SUPER-cute) guys in the previews.



The best things that can be said about this site is that, yes, they have some excellent models, and they act the part of straight fratboys well. If that's enough for you, then maybe this site will work for you.



On the downside - the videography and composition is shaky and uneven: so, even in the best moments, the cutest models are obscured. There are virtually unending sequences of torsos, with no faces, and in half the oral scenes, you can't catch a glimpse of what's being sucked!!!



The videos themselves are incredibly long - with well over half of most of them being devoted to campy "lead-ups", with little or no nudity whatsoever. By and large, the guys simply aren't into it, and it shows in how flaccid they remain throughout the sequences. (If they are having any small increment of fun, you mostly couldn't tell anyway, as you mostly cannot see their faces.)



There are no downloads available; not that I would would have wanted to download any of these anyway. In fairness, I may have missed something, inasmuch as the justusboys reviewer mentioned there is a "slider" feature so you can skip forward - - - but it didn't work for me. I guess I'm just impatient, but sitting around waiting for 20 or 30 minutes, hoping that these really cute guys would do SOMETHING. . . ANYTHING. . . was just immensely frustrating for me.



Maybe it'll improve in the future (I hope so!) but, thus far, I feel really ripped off, and think this is the ONLY gay site I've ever completely regretted subscribing to. They have superb models, and hopefully they'll up their game a bit. . . but in the meantime: there are surely better places to spend your hard-earned money.



Regretfully,

TF :-(((

Reply
Login here to add your own comment:
VISIT Dick Dorm NOW!