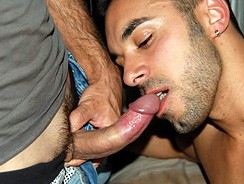 0 total vote





Updated: 2009-12-03
Stag Homme Studios's Billing & Pricing
Stag Homme Studios's primary billing processor:
Dhd Media
$24.95 for 30 days, recurring
$34.95 for 30 days, non-recurring
$69.95 for 90 days, non-recurring
VISIT Stag Homme Studios NOW!
Stag Homme Studios is something new and exciting. Not only do you have over 70 scenes here but you have a chance to get fully involved with the site and with other members. It's a strange new mix of tube/blog/stream/porn/comment/interactive site that is well worth checking out.

What you see on the tour is what you find when you sign up, this means there's a chance to see exactly what you are paying for. That gets a good mark from us as we like honesty in our porn sites. What you can do is read the brief descriptions, see a small screen shot and then click a scene to see your viewing options. You won't be able to run the scene until you have joined though. But when you have you will find loads of exciting things waiting for you.

Yes, you have some hot and exclusive scenes with hunks and studs, jocks and guys who are well built - we're looking at men here. Powerful men, stags I guess you would call them, and in hardcore scenes. There are also voyeur scenes and many different locations in use. The movies are well made, they have a beginning middle and end, so they are not just gratuitous sex - though there is nothing wrong with that! - and they stream in a decent sized player.

I did find that the buffering was kind of slow, the Flash streams, which is the only choice of viewing I found, was fine enough when it got started, but there was some 'start and stop' and I am on a decent mid-range connection; so that's something to keep in mind. Wait for the buffering to fully go through though and you should have uninterrupted viewing. And I also found that new scenes required the re-inputting of my membership details, which started to get a little tedious. And new windows opened regularly. Get the site to tidy those things up, or simply put up with them, and things are fine.

Members can really get involved too, well you can post comments about the movies and there are regular updates and news about what's going on in a kind of Blog style set up. You're also able to vote on content too.

But then you discover the 'Browse more' function and start exploring that. Here I found the same scenes as had appeared on my home page, some behind the scenes footage, some facial only clips, 'coffee with the stars' chat and get to know you clips, content exclusively from Francesco D Macho, Stag Homme XXX Features, Stag TV and Video. Now then, some of the content here is doubled up, by which I mean it appears in more than one category from that 'Browse' list, so though it may look like there are hundreds of clips and scenes here there are not as many as you think. But what you do have are exclusive and good quality, inside info scenes, chat and interviews, and then loads of hot sex with hunky studs and stars. It would have been good to have had more information about the studio itself, you will have to read the blog and watch the interviews for that, but other than that - nothing to complain about here. Hard bodies, hard sex and great viewing all the way.

Bottom Line:
This was a new site to me and as such I would have liked to have known exactly what it was about. If you don't know about Stag Homme you're going to have to guess, or put the pieces together from what's here - and that's well made videos, blogs and background clips and info. It's good quality though you're limited to one kind of viewing in Flash 10, the guys are hunks and your real porn star type of guy, and there are chances to get interactive and involved.
VISIT Stag Homme Studios NOW!
There are 0 comments on this review
Login here to add your own comment:
VISIT Stag Homme Studios NOW!