Hancock Men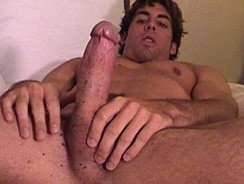 JUB Site Rating:
0 total vote





Hancock Men's Billing & Pricing
Hancock Men's primary billing processor: Ccbill
$34.95 for 30 days (all sites) recurring at lower rates
One site:
$24.95 for 30 days, recurring
$27.95 for 30 days non-recurring
$59.95 for 90 days non-recurring
$99.95 for six months, non-recurring
VISIT Hancock Men NOW!
Hancock Men is a small but growing collection of original and exclusive movies from the Mike Hancock studios. You have a chance to sign up for all three of his sites, on the join page, or you can opt for just this one. Whichever option you choose you will be in for good looking, hot-bodied amateur guys, all hung, all horny and all nude.
Starting off with your members' home page you will find a site that is simple to navigate and use, and one that is simply and effectively designed. The menu is short and sweet with links to the videos
(where you start from)
and to the models, About, Follow Us
(a link to Mike's Twitter page)
and support. The images are contained within the videos pages where you also get a synopsis and a write up about the making of each movie.
Starting with the 31 videos, you'll find simple viewing options with WMV in use throughout. You can stream or download but watch out for the restriction box - you will need to enter your username and password each time so check the 'remember me' box
(in IE)
or similar, and you will only have to do this once. These movies are mainly duo action ones with to hot and hunky guys fucking each other at home, but there are some sensuous solos too. And you may even recognize some names, such as Johnny Castle and Mason Wyler. You don't just enter straight in to the hardcore parts of the scenes here but there are short build ups, with some chat on occasions, and this adds some weight to the videos, giving you a chance to imagine the steamy session that is soon to start.
The quality is fine and should suit all, there's a lower quality version to run full length or to download, and there are clips. The high quality versions played at 764kbps @ 720 x 480 and were just right for a mid-range connection; full screen was fine too.
If you want to decide on what to watch via the model index this is possible too. Each guy comes with a decent face pic and his name, you click this to get to his stats page, and these stats are detailed. Then you can see what he appears in and simply click that link to get to it. You'll also find next and pervious links so you can click through the content scene by scene, or model by model; there were 22 hunky guys in the index so far.
So, no problems with quality, navigation is simple and all the pages loaded nice and fast - though the galleries can take a few moments to appear, but there is a note about this so you know what's going on. These are screen cap galleries and we're also told that too. The images are a mid-range size and are on the slightly better side of your standard video cap image quality. No complaints there either. Images are arranged over thumbnail index pages and open one at a time, a zip download would have been handy and there are no slideshows.
But, apart from that, Hancock Men gives you a good opportunity to meet up with some hung, beefy, chiseled guys and to enjoy some exclusive hardcore and solo scenes that you won't see anywhere lese. The quality is good and it's really easy to move around the site.
Bottom Line:
Big and beefy, ordinary and sexy looking, amateur and hot guys line up for some well made, exclusive movies and galleries in a site that is updated regularly and that will leave you wanting more.
VISIT Hancock Men NOW!
VISIT Hancock Men NOW!