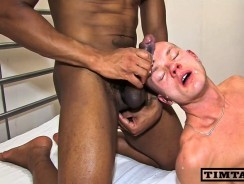 JUB Site Rating:





0 total vote





Updated: 2010-09-21
Primary Categories: Amateur
Timtales's Billing & Pricing
Timtales's primary billing processor:
Paycom
$24.95 for 30 days then $19.95 per month recurring
$29.95 for 30 days non-recurring
$54.95 for 90 days then $17.95 every 30 days recurring
VISIT Timtales NOW!
I can honestly say that I have never seen a dick that big before and no, there was no morphing. I am just damping myself down with a cold towel after checking out the content at Tim Tales, and it's going to take me a little while to recover. Let me try and get my head together...

This experience of this site starts off as if you were going to view someone's home porn collection, in that it is chatty and friendly and has a kind of laid back, amateur feel to it. 'Hi, this site is about me and my BF making out' type thing. But what you actually end up with is high quality porn made by guys who can now call themselves porn stars. But, even though I'd put them in that top category, the site doesn't lose its friendliness.

Checking out the home page I found interesting news, fun to read and well written, which kind of came across as a blog, with horny pics. The guys keep you right up to date here and tell you what they are doing, what film is coming next and so on. Then you go off to view the 100 videos the 52 galleries and the 33 horny models. Let's start with the guys.

The men here are real men, there is no disputing that. They are amateur, hung, fit, muscled, tattooed, cute, ebony, white, and solid through and through. You're not looking at twinky boys here or aged dads, but genuine hunks in between. There is one twinky looking guy actually and that's where the monster cock came in. When you get to the site, and you must, then check out Steven Prior; ouch!

But I digress. The guys are great, that's fine, and the videos? Well, these are great too and they come down the line to you at a fast transfer rate so there's not too much hanging about for your downloads. With each top scene you've got six ways to download from a XXL WMV to an iPod/iPhone version, and the site features a theatre too. Not a pay as you go type thing but a Flash box at the top of the pages where you can stream any of the scenes on that page. The quality of everything here is perfect, from the guys to the filming to the presentation. And that goes for the galleries too.

You can view or download galleries and they come as thumbnail pages where individual images open up to around 447 x 670 in size. They are a mix of solos and action and are very easy to navigate. The model index brings you a good shot of each of the men, and some info about him, and what's really nice is that you're told what country he is from. There are not just USA guys here but European and even at least one guy from Turkey.

So, a neat set of exclusive videos and galleries and guys, well made scenes, a well designed site and one that's very well looked after. It's a breath of fresh air after so many same-old, same-old porn sites and Tim Tales is highly recommended.

Bottom Line:
There is something very refreshing about this site; it's like a mix of home-grown porn, someone's personal sex diary and a top class porn site with professionals. And that mix really works. The guys are great and the videos top quality, even the site design is user friendly; the text is cheery and matey and you feel like one of the gang as soon as you enter the members' area. You can actually apply to be one of the gang, as long as you're up for hardcore, real-guy sex.
Safe Sex Notice:
This gallery contains images of unsafe sex practices, also known as barebacking. Engaging in sexual practices without the use of a condom is a risky and unnecessary behavior. There are a lot of studios including the one listed on this page that film bareback or have bareback scenes in their content libraries. The images presented below should only be used for fantasy and you should not deceive yourself into thinking that "everyone is doing it." Further, you should not assume that just because you see photos or film content of barebacking that sexually transmitted diseases have been miraculously cured. HIV and other sexually transmitted diseases are very real and potentially lethal. Please practice safe sex in your own life and educate yourself regarding the dangers of not wearing a condom before having sexual encounters. Visit AMFAR for more information about safer sex.
VISIT Timtales NOW!
There are 0 comments on this review
Login here to add your own comment:
VISIT Timtales NOW!