Boyride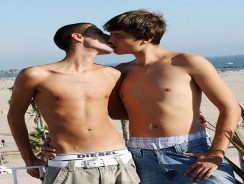 JUB Site Rating:
0 total vote





Boyride's Billing & Pricing
Boyride's primary billing processor: Ccbill
- 30 Day Recurring Membership - $24.95 ($19.95 after 3 Rebill Cycles, $14.95 after 10 mo.)
- 90 Day Non Recurring Membership - $54.95
- 6 Month Non Recurring Membership - $99.95
VISIT Boyride NOW!
It's happens all the time. You're walking along the beach and some hot, blond surfer boy runs past you, bronze skin glistening in the sun, wearing only a pair of baggy swim trunks. You can almost picture his sexy figure laying out naked, making sure he doesn't get a tan line. Or you're walking down the street and a handsome young punk glides by on a skateboard. You fantasize about him showing some different kinds of tricks when his buddies come by and they take off. You're thinking you wouldn't have a chance with them because they're probably straight. But what if... That's where Boyride.com comes in.
The overall look of this site is as edgy as the boys that are featured on it. There are so many options, you'll want to keep coming back for more. On the homepage you can click on a cool scrapbook to give you just a taste of what's to come. Following the easy navigation bar at the top, you start off with the Flix. Page after page of solos, couples, threesomes and more give you a chance to choose what kind of action you're looking for. I got really into Kyler, a bleach blond skateboarder and one of boyride's most popular models. After checking out his steamy adventures with some of the other boys, I got to read more about him in his bio, get a better look at him in his photo gallery and even see some extra videos of him doing a photo shoot. Many of the video pages give multiple options like model bios, video outtakes, bloopers and audition footage, all of which can also be accessed by the navigation bar.
If photos are what you're into, there are several galleries available that give you easy access to all the fun. Click on the thumbnail images and you'll see high quality photos of each model. I thought I'd take a quick look around and ended up spending hours going through one scrumptious pic after the other.
The videos are available in both Windows Media WMV and Quicktime MOV formats. They are available in two different quality levels: 256K (for dial-up) and 1100K (for broadband) and have been optimized for the best visual quality. The videos are streamed and password protected with DRM on the Windows Media format, so all you Mac users out there should stick with the MOV files, they will work better. PC users should view the site in IE and Mac users in Safari to avoid any problems.
There's an online store where you can buy DVD compilations of all the hot boyride.com videos, so even when you're not sitting at your computer, you won't have to leave these hot boys behind.
Bottom Line
The boys of Boyride.com are not your average porn models. Most of them are first timers, unless they've been on the site before. The BoyRide crew deliver excellent quality video and the action never stalls, the models keep the energy high and the sweat pouring. For that perfect blend of boy-next-door good looks and the pierced and inked alternative crowd, take a ride with the boys of Boyride.com.
VISIT Boyride NOW!
VISIT Boyride NOW!