Alpha Studs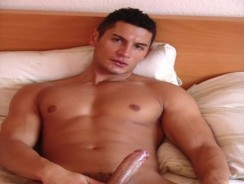 JUB Site Rating:
0 total vote





Alpha Studs's Billing & Pricing
Alpha Studs's primary billing processor: Ccbill
$EUR 9.95 7 Day Trial
$EUR 24.95 Monthly Membership
$EUR 49.95 3 Month Membership
$EUR 79.95 6 Month Membership
$EUR 99.95 Yearly Membership
VISIT Alpha Studs NOW!
The mission of Alpha Studs is simple and effective. It aims to bring you hot guys from all around the world with a strong focus on European muscle guys It also tells us that it only uses its own exclusive content, so you won't have seen these hunks and super bodies anywhere else.
And I can say that I didn't recognize any of the hung guys that I saw on the home page but, after only a few minutes in the site, I felt that I'd known them a long time. Actually the homepage is typical of the site; it's well laid out, nicely designed and contains good sized sample pics. There are updates there too and you can even see what and who is coming next. The top menu is a simple affair taking you to videos, pictures, your favorites area and home again.
Now then, the thing to remember is that the site is still fairly new. It was put up in May 09 and started off with a nice collection of hung, smooth, sexy and well built guys. There were updates through June and one in July; it's now August and I am eagerly awaiting more. So, I'm not sure what the update schedule is planned to be, but it looks like you're going to get something at least once a month. And what exactly do you get?
So far there are 12 videos, a mix of solos and hardcore, and these are available in WMV (at 128kbps, @ 720 x 576) and QuickTime
(at 1071kbps, @ 720 x 576)
, streaming and downloading. Scenes runs for around 20 minutes, the visuals are fab and the performances spot on. You have a nice mix of erotic and hardcore here, with scenes moving from one to the other seamlessly. The models can't be faulted and you get to see some very hot specimens of Greek Good like male. Although there isn't much choice in resolution, and you will be better off on a faster connection speed to cope with the buffering, you have a decent, mid-range size chosen for you, and this works well, even at full screen. So no problems with quality.
And that goes for the 18 photos sets too where each gallery holds around 120 pics. These open up to a good size, at 825 x 1100. Here you can also rate the pics, add them to your favorites area and run slideshows in six speeds, with a choice of six sizes of image. Downloads are also possible. The images capture these dreamy guys at home, jerking solo style as well as outside, they are together in some duo galleries too, so again a nice mix.
Now, if all that sounds a bit technical, I'm sorry. I did start to wonder what it was about these guys that made them, and therefore the site, special. There are loads of good quality solo and hardcore, video and gallery sites around, so why should you go with Alpha Studs? I think the catchword here is originality. These are exclusive men, they are well captured on film and you will only find them here.
Bottom Line:
Alpha Studs is still quite new but hopefully it is growing. There is something about this site that will draw you back. It's not very flash and fancy it doesn't have bells and whistles but it does concentrate on the kinds of hunky, European, tanned and muscled guys that the tour promises. Give it time and you'll be a fan.
VISIT Alpha Studs NOW!
VISIT Alpha Studs NOW!