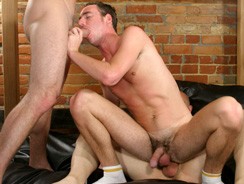 JUB Site Rating:





0 total vote





Updated: 2009-04-14
Primary Categories: Hardcore
Currently No Videos
Swift Maverick's Billing & Pricing
Swift Maverick's primary billing processor:
In House
3 Day Trial - $1.95
7 Day Trial - $9.95
30 Day Full - $39.95
90 Day One Time - $69.95
VISIT Swift Maverick NOW!
Swift Maverick is part of the Male Spectrum Pass network and is a fairly new boy on the block. There are two guys driving this original site, Sam Swift and Johnny Maverick, they are based in Canada and they have a hankering for inexperienced guys. They get these amateurs to appear in their movies and galleries and they put together a site that's neat, tidy and interactive. On top of this they've found their way into Male Spectrum so you, as a member, also benefit from the extras and bonuses that come with that particular set up.

But first to Canada and the world of amateur guys: When I clicked in there were 42 videos and galleries and a huge range of viewing options. These are important as there are still folk who are not able to get a broadband connection - so we have here: dial up versions from 275kbps @ 428 x 240 in size, mid-range ones at 1.47mbps @ 852 x 480 and a version that's a ball busting 4.22mbps @ 1068 x 600. There are actually five options in total to stream and download in both Flash and WMV. Phew!

You're also told a little information about each scene with a good sized image to show you who is involved; these guys usually sport big long dicks too. Some scenes have a story to them - the pizza guy calls round and gets a topping he didn't expect, for example, while others are simple indoor or studio set ups with two guys making out on a sofa. But all the way through quality is assured and the video making is a high standard. The boys are varied too - you'll see plenty of Sam and Johnny along side blonde twinky boys, hunks in and out of uniform and your standard boy next door (I wish) amateur men. Performances are good and natural and there's nothing to fault these movies or your viewing options.

Galleries come with each one, there are PicLens options if you have that software and there are zip file downloads too. As a member you can rate content and add it to your own favourites area - these area all standard and good interactive options. There was an issue with the flash screen - it wasn't quite on the page and I missed the bottom half of the pics and vids, but you can download the pics in a zip file and run them in your own image programme, or you can view the WMV streams in their own player, so not a huge issue - you may also be able to overcome it by fiddling with your monitor resolution or by contacting the help department.

Meanwhile, back in the window that you first opened (your Swift Maverick content opens in a separate one) you can go off and explore the additional extras that come with your membership. You get more that the standard package here with 17 good quality and regularly updated feed sites, and seven reality bonus sites - including the likes of Twinks for Cash and His First... (inert Huge Cock or Gay Sex). A members' poll is running on your home page where there is also a good search engine, and plenty of update news is available. There is also plenty of help and support if you need it - so you get well looked after as a member of Swift Maverick.

Bottom Line:
This is a great place to come for hot Canadian men in well made and original scenes. You have a wealth of viewing options, good quality productions and totally hot guys. There are also loads of extras and bonuses which ensure you get value for money and ongoing value too, as updates to the site and its bonuses are regular.
VISIT Swift Maverick NOW!
There are 0 comments on this review
Login here to add your own comment:
VISIT Swift Maverick NOW!