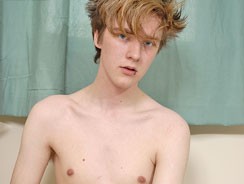 JUB Site Rating:





0 total vote





Updated: 2008-11-21
Primary Categories: Younger
Secondary Categories: Hardcore
Boy Fun's Billing & Pricing
Boy Fun's primary billing processor:
In House
30 Days Recurring - $29.95
90 Days Recurring - $69.95
VISIT Boy Fun NOW!
A ton of pictures that supposedly exceed 350,000 images. I can believe that after spending some time perusing the collection of sexy hot guys at Boyfun. Now for me, I like to find that entrance easy but not so easy here. The free or preview section is a bit convoluted so I am going to assume that when you buy a membership, you get a specific URL to go visit in order to login. If not, well... it is there, so make sure you bookmark it.

Kudos on the free section as it does give you a good idea of what you get. The models do update often. Once inside you can see as they clearly mark the dates new model galleries are added. Plus they do place them on the 1st page rather than forcing you to cycle through a ton of pages to find them.

Videos:
Well call me old fashioned but I kind of like to enjoy my videos. I don't mind at the beginning to hear a bit from the model, hear the voice of the guy who later on will be groaning and moaning to his orgasm, but not through the entire clips.

The video image quality is good. The audio quality on the other hand was not so good. Perhaps it is just me, but I think when a person is filming they should move around for different camera angles, but not announce it to the viewers.

Turn the audio off when watching and you will see some hot guys having hot sex. Keep the audio on, and well you might not get off fast, but you will get a good laugh or two.

There are so many Videos that you will need some time and several towels in order to enjoy them all. Appears like only Windows Media Player is the available choice, plus the single speed. Good news is that with Windows the buffering is quick.

Photos:
Lots and lots of galleries available to view. Pages upon pages actually nicely categorized into Teens, Athletes, etc. A nifty little model by name list is available, all well thumb nailed as well. So its really not too difficult to find a few hot guys to watch.

The transition effect is annoying however. Didn't try out the slideshow feature to see if it was also using that transition effect, but after the 2nd or 3rd photo it gets not just tiring, but well time consuming.

All the photo'm are crisp that we viewed and the full size image page does have a next/previous option as well as a return to directory link. Too the thumbnails are a bit larger than most sites.

Navigation:
There is a top navigation bar that easily lets you go to the various sections, softcore photos, hardcore, movies, etc. That is good because the navigation beyond that point is a bit awkward. Still it is better than no navigation and there is always the back button.

Can't really blame the site either. I mean it is simply not easy to provide quick simple navigation when you have over 350,000 images. I mean think about it, that is a lot of pages to link back to the right directory or whatever.
VISIT Boy Fun NOW!
There are 0 comments on this review
Login here to add your own comment:
VISIT Boy Fun NOW!