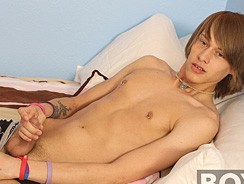 JUB Site Rating:





1 total vote





Updated: 2010-11-12
Primary Categories: Younger
Boy Crush's Billing & Pricing
Boy Crush's primary billing processor:
In House
$3.95 for a three day trial
$24.95 per month recurring
$49.95 for three months recurring
VISIT Boy Crush NOW!
If you've got a crush on young, cute boys then you're going to need Boy Crush. This is an exclusive content site that focuses on hot fun between teens (18+) and the younger end of the twink range. Check the boys on the tour and believe what you see because what you see is what you get here: wall to wall teens and twinks in well made, good quality and exclusive movies.

You kick of with a homepage that brings you site news, the latest episodes some adverts, a members' poll, and a top menu to guide you around to the other areas like the blog, model index and a place to buy the hard-copy DVDs. I did notice a message telling me my IE version was not compatible and that I might have trouble viewing the site (I didn't), and that I should use Firefox, which I did, also with no trouble.

Clicking straight to the videos page I found that the same good looking and easy to use design continued, but now I not only had neat sample pics and descriptions, but also ratings, a search facility, and 47 pages to browse through, offering me 555 videos. 480 of these were from Boy Crush, the rest were from the partner site Bare Twinks, which you can also access. There was a huge category list and the search engine ran brilliantly. So, it's easy to find exactly what you are looking for. And it's also easy to run the movies. Read the short descriptions by all means but I get the feeling you are going to be led by the face pics here; there are some very young looking guys with come to bed eyes who are going to twist your heart and stiffen your cock.

Streaming was easy, there's a good sized Flash screen by default, and no loss of quality at full screen, and a total of four resolutions of Flash to stream in. Add to this the six choices of download, in WMV and MP4 and you've got more than enough to choose from. Also on these well designed video pages are linked tag words to help your searching, and profiles of the boys appearing in the movies. You can, from here, find their stats and short description and links to their other scenes.

You have no worries about quality here, this is a site that knows what it is doing. It's been redesigned recently and though the members' poll had the option for you to say 'give me the old one back' I doubt anybody has clicked that. It all runs and looks good and the boys... well, expect to get distracted for many hours with the huge volume of perfect boys in horny sessions. From shaved blonde guys to EMOs, and from solo toy-play shoots to threesomes, it's all knockout quality featuring great models. There are 136 boys here, each too sexy to be true, and the model index is going to present you with a challenge: Which one to get off with first? Add in the content from your bonus site and the set of feeds to view, the regular updates and the neat little interactive options and, at Boy Crush, you've got a site that delivers, gives great value and that, once seen, you're going to stay with for a long time.

Bottom Line:
Tops for teens and twinks, Boy Crush has been around a long time. It is very well established, it's been redesigned and is now great to use, (it was pretty good before), and it has some of the youngest looking, sweetest, horniest - you name it there's 'est' on the end - youths appearing on your monitor today.
VISIT Boy Crush NOW!
There are 3 comments on this review
joylovessex December 11, 2008 - 16:27:17 (See all My Comments)

Okay so prepare for a gushing review here. I have only just joined this site and love it. Nearly everything is perfect on there. The guys who take part in the videos are really into each other, the sex is hot with a capital H,there are plenty of cheeky chappies and there are very few straight guys. To me a gay site should have just that, gay guys. I don't want to watch a video of a straight guy wanking and luckily this is not a problem on this one.

So as I stated above the guys have sex and you can see the passion between them. I think there are a few real life couples on there but even the ones who aren't properly together obviously love kissing, sucking and of course fucking. To me this site is brilliant and I feel as if I could watch these videos over and over again. Great site, lovely lads, hardly any straight material.

Reply
Minnesota Guy March 26, 2008 - 01:18:44 (See all My Comments)

One of my favorite twink sites out there. The guys are young, always hard (very important to me) the sex is hot. The website is updated weekly and the material is exclusive, meaning you will not see it rehashed other places to my knowledge.

The website support team are downright nice, soliciting feedback, etc. I really like the fact that they seem to care about their customers. I agree that they are very engaged with their members.

Definately worth the price of a monthly admission. And the videos you own once you download them and do not expire. Even though I have a few vids saved on my laptop I typically find myself going back to the website for more but appreciate them allowing the videos not to expire. So that makes me a loyal Boy Crush fan.

Oh and one thing that may annoy some, but I love it, is that some models are used over and over. But I like that especially if there is one that I really appreciate watching. I really like to see the same model in different situations with other guys. I know this runs the risk of over exposure but somehow this website knows how to keep fresh within their format.

Reply
darlingstacy December 22, 2007 - 00:15:55 (See all My Comments)

Recently becoming overwhelmingly bored with the gay for pay site I was a member of, I wandered the JUB gallery pages here looking at different sites. When I first became a member of the "women who love gay porn" set (yes, we exist) it was actually "twinks" that I found myself fond of. And after coming across pictures from some of the models at BoyCrush I was intrigued. I decided to become a member and I was immediately impressed by the site.

These are people who understand what porn is supposed to be. Fun, passionate and sexy. And they understand that there are people out there who like different things. The first thing that stood out for me was the list of activities and model types on the side of the main page. I was thrilled that since I adore kissing I could click on that link and I'd get a whole set of videos that featured a lot of making out and kissing.

The best thing about BoyCrush.com is that the models and the producers enjoy what they are doing, and it shows. In the videos and in the way the site is run. I had password issues and I was well taken care of by the support staff.

And the bonus of it all is that there is a forum where we members are encouraged to post what we like, didn't like and would like to see more of in videos. And the models actually interact with the members. It's nice to know that they know how important we as paying members are to them.

Bottom line is this: If you enjoy twinky boys who LOVE sex and showing off on screen, and if you love passion in the porn you watch, BoyCrush.com is for you.

Reply
Login here to add your own comment:
VISIT Boy Crush NOW!