Virtua Guy Hd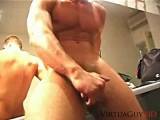 JUB Site Rating:
0 total vote





Virtua Guy Hd's Billing & Pricing
Virtua Guy Hd's primary billing processor: In House
From $9.95 to $14.95 per month, plus individual process for downloads.
VISIT Virtua Guy Hd NOW!
He's six inches high, built like a Greek god and he is stripping off his clothes as I write this review. No, I am not 'on' anything, I really do have a guy stripping on my monitor, and he is doing it over my word processing program.
When you are asked to download something to your PC in order to run a program you will want to know if it's safe.
At Virtua Guy HD you are assured that the little piece of software you need is safe and spy ware free.
(I had no trouble with it.) The software is also free but you'll need to pay to download and run the guys. What am I talking about? Well, this site offers you the chance for some fun and to have something sexy on your machine; stripping hunks and twinks to be exact. Here's how it works.
First check out the pages at Virtua Guy HD where you can see all 50+ models, and where you can also read other customers' comments about them. This is a place that likes to encourage you to get involved, and you can add your thoughts on the strippers once you've seen them. There have been over 150M downloads from here, so they say, which should go some way to reassuring you that the site is a safe thing to use.
These aren't just little gif animations, or short Flash clips, that run for a couple of seconds and then repeat. These 'shows' run for upwards of half an hour or so and are real guys, who have their own sites, really stripping. There are some couples too, in particular a nice pair of Czech twinks; and you'll get all the information about the men on the tour pages. Start by downloading the software, it's only about seven Mbs and the installation process doesn't take long. Once you've done it you are provided with a username and password so you can access your personal area where you'll find your comments, messages and collection of guys, once you've purchased some.
A solo show costs one ticket, but there is a monthly membership available too. The shows run when you are connected to the net though so you can have these sexy guys parading around your bottom right screen whenever you want. It's easy to turn them on and off and they come with interactive options too.
The shows are a permanent download - once they are bought, they will always be available to you, as well as the bonus content often available with the shows (videos and images!)
If you're still not sure about this sexy piece of fun software then you can try the guys absolutely free. There are free trailers that give you a good idea of exactly how the thing works. It's a bit odd at first, as the guys look so lifelike; it's like having a real man, though a very small one, swinging his hips and striping of his clothes in the corner of your monitor.
But, like all good sites should, this one goes that little bit further. Virtual Guy HD isn't just after your money in return for a fun piece of sexy software. There is a community feel to the thing too, so you can join in the forums and put up your own profile. There is a whole group of people out there all sharing an interest in virtual stripping hunks (and twink), which might strike you as a bit odd, but then ... why not? Check out the community pages, the members, many of whom have face pics, the comments and so on and you'll soon realise that you can share the fun and sexy happenings with new friends across the globe.
Bottom Line:
VirtuaGuyHD
: it's fun, it's sexy, it's not at all expensive and it's a good quality product. Select a hunky dancer to strip for you that you can control and even interact with and, unlike men generally, you can switch him off when you've had enough. It's a unique and original computer sex program that no monitor should be without!
VISIT Virtua Guy Hd NOW!
VISIT Virtua Guy Hd NOW!