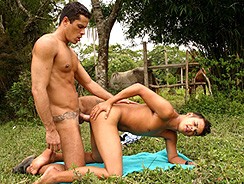 2 total vote





Updated: 2008-05-02
Primary Categories: Amateur
Secondary Categories: Gay Hunks
Wank Off World's Billing & Pricing
Wank Off World's primary billing processor:
Ccbill
$24.95 for 30 Days - 1 month
$49.95 - Best Deal for 60 Days - 2 months
$59.95 - Bonus Deal for 90 Days - 3 months
VISIT Wank Off World NOW!
I have been viewing gay adult sites for so long now that I'm growing hair on the palms of my hands and I'm going blind. (Only kidding!) No, I've seen many gay sites before but I've never seen one quite like this. For a start the promises on the tour are simply mind-boggling, with masses of content including exclusive videos on offer. Making such big claims can often lead to disappointed members, but not in this case. Secondly I've never been so well welcomed, or guided through the login process - after only a few minutes at Wank Off World I felt like I was a valued member and I felt an affinity for the site. That's even before I got to the members' content.

And, when I did, I found it neatly arranged in eight categories. I could throw loads of numbers at you're here, telling you about the exact numbers of images and so on but I'll try not to as the tour area does all that for you. Instead, here is what I found when I looked around. I'm concentrating on the galleries purely to give you an example of the variety and amount of content.

Amateur guys' images: These include group scenes and solos of the kinds of guys like you or me, the sort of sexy looking, ordinary chaps who live next door or work at the desk across from you. Good quality, easy to navigate and plentiful. A good start and a great collection for you if you want to wank off to pics of amateur men. The same praise can be showered on the Asian and Ethnic Men section where you'll find exactly what it says on the title with younger and older guys from various ethnic backgrounds. Solos, duos, group scenes... there is plenty of ethnic cock here in the galleries.

Ditto the Bisexual area - where I caught a straight couple too! But he had such a huge cock and a great body that I didn't really mind. Want to jerk off to two guys and a girl? Feel free - you'll find inspiration here. Group scene photos: exactly as it says, again but with swimmers, soldiers, hunks, twinks, sporty boys, in fact anyone with a cock and a pal makes it in to this huge collection of galleries.

Fetish and Kink was the fourth area of images. Leather, bondage, cross-dressing, T-girls and glory holes are up so far and, no doubt, even more fetishes will be represented over time. Hunks and Studs: yes, plenty of them too. Older, muscled guys in solo and action sets, top models, cover boys, hardcore shots and hairy bears, you'll find them all here. And let's not forget the twinks, bless 'em. 14 pages with 75 galleries per page of smooth, boyish, pretty and sexually depraved young men appearing in large collections of good quality solo and action images.

If I tell you that was the variety in just the images section you'll probably not believe me. But it's true. It would take pages to even outline the video content at Wank Off World. There are exclusive solos and group scenes in very manageable file sizes and players, there are short clips and scenes for a quick wank get off, there are seven categories of hardcore including more ethnic guys, bisexuals, hunks and twinks. That's hours of video viewing which is all easy to stream or download. Finally there are 10 third part feeds and a large collection of erotic stories too, always useful for when you want to fire up your imagination and 'play along' with a good one handed read.

Bottom Line:

Head spinning, eyes watering, right arm getting sore but just one more click to look at the next sexy hunk or the next hot video... Be prepared to stay a long, long time at Wank Off World as there is so much here to view. There are exclusives as well as non-exclusives and there is good quality as well as large numbers. I was right to feel valued: you will be too and not only because you get great value for money here, you also get what you are promised.
VISIT Wank Off World NOW!
There are 3 comments on this review
I joined some time ago and let my membership lapse, then re-joined again recently as I noticed a few of the newer models looked hot and I wanted to see more of them ... I reckon the videos a pretty good quality for the money, and the guys are pretty hot too, they are amatuers and obviously not done this sort of thing before, which makes it even hotter for me.

Reply
techguy November 02, 2008 - 08:05:31 (See all My Comments)

This site has the worst film quality I have ever seen. They should be paying you to access their site.

Reply
A mate and I came across this new site a few weeks ago, its huge with so much stuff inside theres enough to get off everyday for years. They update everyweek and I know this as I decided to join. Theres at least 100 exclusive videos and pics which is added to everyweek so its rapidly climbing and on top of this they have a further 100s of videos and 1000s of other images of all different types. I love getting off over some of the many video feeds too that they have. It might not be sean cody but it certainly has enough to keep me satisfied !

Reply
Login here to add your own comment:
VISIT Wank Off World NOW!