Pierre Fitch Online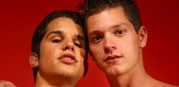 JUB Site Rating:
0 total vote





Pierre Fitch Online's Billing & Pricing
Pierre Fitch Online's primary billing processor: Ccbill
30 Days for $29.95 recurring.
$69.95 - 3 months membership
VISIT Pierre Fitch Online NOW!
What is there to say about this hot French Canadian porn star other than he is a dreamboat? The star from several Falcon videos now has his own fan site if you will, so if you are one of those who has enjoyed his work on camera, then you are in for a treat in this single model membership site.
There is a great deal happening inside Pierre'm site too. This just isn't a site with a few pictures or videos, as Pierre is definitely one of those who places value on his fans as well as his work.
Videos:
These are available in Windows Media only it seems but eventually he might add Quicktime format. These are mostly solo videos of the Falcon star and are available in short entertaining clips. The downside is that a complete clip isn't also available for those who wish, nor is there really any description of what is in each clip.
Pierre is not shy as his videos show you. They do at times make you think he is talking just to you, which adds a certain charm to each clip you view. There are a lot too, given that it is a single model site.
Photos:
Bit confusing here, as each photo gallery also lists the video clips. More description of the clips are here, which really might be best over in the Video section. Or perhaps they should be combined into one.. so you could choose which to view, pictures or videos or in my choice, both.
The photographs are crisp and clear. The thumbnails are nicely sized so you do get a decent idea of what they are, unlike some other sites. Each thumbnail does open into a full sized page. My only beef is that the full sized pictures are all constrained to one size, which is okay. They are very sharp & focused pictures.
There is a lot to this site as well. At the present time there is a once a week live cam show of Pierre, which is an added bonus. You can also visit his chat room that is coming shortly.
Pierre has a Blog available too for those who want to know the daily life of a Porn star.
Only complaint really is that text is rather small and for those with ancient eyes like mine, can be a bit bothersome to try to read without squinting at times. Still, some of the comments are well worth the effort, after all it is Pierre.
Navigation is not as clear either as it should be. The deeper you go inside the more confusing it can become. It is a minor inconvenience that I am certain will change as the site grows.
Updates aren't shown or listed, but I would assume after reading the Blog, that you can find that information listed there. Perhaps also in the support section or FAQs section.
VISIT Pierre Fitch Online NOW!
VISIT Pierre Fitch Online NOW!