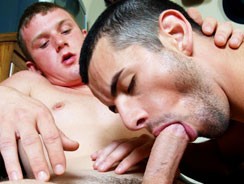 JUB Site Rating:





0 total vote





Updated: 2008-04-16
Currently No Videos
My Brothers Hot Friend's Billing & Pricing
My Brothers Hot Friend's primary billing processor:
In House
My Brothers Hot Friend's optional billing processor(s):
Ccbill
Credit Card Options
3 - Day Trial Password - $1.95
7 - Day Trial Password - $4.95
One Month Membership - $24.95
(only 83 cents a day)

By Check
Full membership is just $24.95 per month!

By Phone
$34.95 for 30 days recurring
VISIT My Brothers Hot Friend NOW!
Suite 703 has done it again with a classy looking, well made and very hot site: My Brothers Hot Friend. Here you are taken back to those long summer holiday days when you elder brother brought one of his college mates home and you got a crush on him. But, instead of beating off alone, the younger brothers here get to fulfil their sweaty, hot night fantasies and go the whole way with the sexy, hunkier older guys. You just know that this site is going to deliver on its promises and you won't be disappointed.

So far so good: 20 full length videos that come with galleries: that's around 40 hot jocks and younger studs waiting to please you. You have a greats et of viewing options from a standard sized WMV file to a DVD quality one; there are portable device compatible version too and each movie is available to stream or download at full length or in short clips. Even the galleries have a choice of quality and come as easy to browse thumbnail to full sized image pages as well as a zip file.

But it's the scenes that make this a classy site. Not just the easy technicalities or the sexy guys. The scenarios keep to a believable storyline with, usually, the older guy meeting up with the brother of the brother in the title, before both strip down and indulge in some very watchable oral and anal scenes. Actually that description doesn't do justice to what you see. There is something about these videos and galleries that takes you away from the normal strip and fuck videos hat other sites put up. There is an atmosphere to them and a romantic believability which is not something you can say about many hardcore porn movies out there. There is dialogue too with scenes starting with a spoken set up so there is a story, characters and background to each one and no, it's not bad acting. (Well, it's not the Royal Shakespeare Company but I've heard a lot worse.) Later on you'll get the 'take that fat cock' type of line along with the grunting and slapping sounds but by then you won't care and some of the scenes get so noisy... These guys really get in to what they are doing as they get in to each other which gives the scenes even more realism and believability.

Best stop gushing about them eh? Well, that's hard to do as these are some of the best made hardcore flicks I've seen in a while. So there may only be 20 so far but your membership gets you into the other two Suite 703 sites which also contain just as hot content with great looking guys, loads of cum chucking and plenty of satisfying hardcore porn so you can't complain that you're not getting value for money. And the sites are updated regularly too with more exclusive content that you won't see anywhere else. To get to those sites simply click the links on the members' home page and have your username and password ready.

Bottom Line:
This is top quality stuff and a little more of it would get it a higher rating but the 20 (so far) episodes that you do have will not let you down. Particularly if you want some slightly older on younger guy action. And I don't mean that kind of old Russian man with a skinny twink porn either. These men are good quality models with great bodies, great cocks, willing asses and even a knack for speaking some dialogue. The quality of everything is great and you have a good selection of viewing choices so you're not going to have any problems getting to see this top class porn.
VISIT My Brothers Hot Friend NOW!
There are 1 comments on this review
Minnesota Guy February 05, 2009 - 01:43:40 (See all My Comments)

This website started out really great in 2008 with as many as 3 posts a week but started to slow down in a monthly post. There is a good library of past videos that are exclusive to this website. So if you join expecting more frequent websites post, especially weekly like others, be forewarned.

Reply
Login here to add your own comment:
VISIT My Brothers Hot Friend NOW!