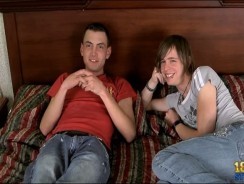 0 total vote





Updated: 2007-12-03
Primary Categories: Younger
Currently No Galleries
18 And Up Studs's Billing & Pricing
18 And Up Studs's primary billing processor:
Ccbill
$20.00 for 30 days - recurring
$24.95 for 30 days (non-recurring)
$48.00 for 90 days - recurring
$65.00 for 90 days (non-recurring)
VISIT 18 And Up Studs NOW!
18 and Up Studs comes from a company called Nice Dreams Entertainment, not one I've not heard of before so I am looking forward to seeing what they produce. The tour area is similar in design to the members' area and promises you two basic things: 100% straight/bi/amateur guys (in exclusive videos and photo sets) and bi-weekly updates. Membership is reasonably priced.

So, signed up, logged in and raring to go, what do we find?

There are five parts to the members' area of the site; home, videos & video caps, models, updates and news. Home consists of links to the other four areas of the site and you'll probably want to go straight to the videos and screencaps part to check out the set up. The large sized sample thumbnails loaded really quickly - one per video - and are a great way of seeing exactly who is in what movie/image set. There were 74 vids/galleries when I called in, each one is dated so you can keep an eye on the upload date and make sure the bi-weekly promise has been kept. You are also treated to the run time, the number of video caps and the models' names.

The guys are... well, I can't say for sure that they are 'straight and bi' like the tour promised, I mean they were certainly doing some non-straight things when I saw them, but they do look 100% amateur. You have all kind of 'normal' looking guys here: young skater dudes with their baggy clothes and un-fed look, preppie boys with neat hair cuts and smooth, toned bods, geekish looking youths brimming over with enthusiasm and tough looking straight lads - who don't mind fucking and blowing each other.

Viewing the movies is made easy for you as they come in three connection speeds; broadband 720 x 480 @ 1.25 Mbps, DSL/Cable 480 x 360 @ 560 kbps and Dial up 240 x 180 @ 69 Kbps, (don't try it at full size!) The quality of film making is just fine though it's obvious that the lads were not hired for their acting ability; they just about manage to introduce themselves before the action starts and that's probably a good thing: no scripts, just one or two (sometimes three) horny guys getting on with gay sex.

It is kind of basic stuff with solo scenes and your usual suck to fuck hard-core scenes, but the guys are fresh, new and varied, as are the cocks and butts too and there is something ultimately satisfying about the raw amateur quality of the models. Don't forget you can scan the models' database to select whoever takes your fancy from the good sized face shots. Each boy comes with a set of stats and links to his appearances. The Updates page simply reminded us that two videos are added every week and the News page fills in the details with dates and summary of updated content.

Bottom Line:
18 and Up Studs has a simple design, easy to view content, some very sexy young amateur guys and the promise of more content twice a week. It's kind of like many similar sites we've seen and of course more content would be good - but hey! We're getting the regular updates. It's fun and horny and there is a good selection of 'straight/bi' boys. With over 70 episodes lasting an average of 15 minutes each you have around 18 hours of non-stop hard on to deal with so far. I'd get the tissues out if I were you.
VISIT 18 And Up Studs NOW!
There are 0 comments on this review
Login here to add your own comment:
VISIT 18 And Up Studs NOW!